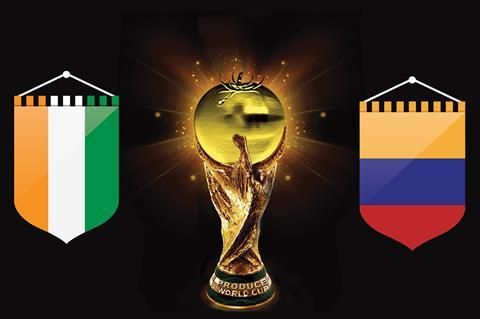 Fruitnet.com's partner publicationsFRESH PRODUCE JOURNAL, EUROFRUIT, ASIAFRUITandAMERICAFRUIThave teamed up to publish a series of special interviews to coincide with the FIFA World Cup, featuring a member of the fresh produce industry from each of the 32 nations involved in the tournament.
Today, it's Jahir Lombana, an author and researcher at Colombia's Universidad del Norte, and Olga Kouassi of the Abidjan-based Bureau Norme Audit, ahead of their teams' Group C clash tomorrow (19 June):
What is your firm's world-beating service or product?
Jahir Lombana:Colombian coffee and bananas are second to none – we truly have a world-class offer.
Olga Kouassi:We are a certification body based in the capital city.
What does the World Cup mean to people in your country?
JL:It means expectation, and passion. The World Cup is a time to forget the country's problems. It's a time for people to put aside their differences and unite to cheer on the national team.
OK:In Côte d'Ivoire, football is a way for people to reconcile and overcome divisions. The participation of the national team at the World Cup is a point of pride for the population and a special time for a lot of people to come together around a shared passion.
How do you think your national team will fare in Brazil?
JL:Every team wants to be the champion, but a lot of Colombians would be happy finishing in the final eight. If you go by the current Fifa world ranking, we should end up fifth. We'd love to be world champions, but past experience has taught us to be realistic.
OK:This competition is the perfect opportunity to compare the Côte d'Ivoire footballers with others from all over the world. We really hope that the team reaches the quarter finals, given the talent there is, including Didier Drogba and Yaya Touré.