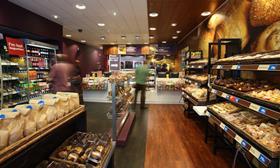 Bakery chain Greggs plans to introduce fruit and nuts to its range as part of a wider healthy offer.
Chief executive Roger Whiteside made the pledge as he unveiled a strong set of six-monthly accounts, in which healthier options helped drive sales growth.
New soups and snack packs of fruit and nuts will be sold from the autumn, Whiteside said, alongside a gluten-free offer.
Greggs' turnover rose six per cent to £422.1 million in the 26 weeks to 2 July, with operating profits up 6.7 per cent to £27.2m.
Whiteside put the sales growth down to a strengthened Balanced Choice range, further development of its breakfast and hot drinks offer and the launch of an improved Greggs Rewards app.
'In the first half of 2016 we delivered good like-for-like growth by reinforcing the freshness and value of our offer in line with changing trends in the food-on-the-go market,' he said. 'We added to our Balanced Choice range with sales growing strongly as more and more of our customers recognise the quality, range and value we offer in these healthier food choices.'
Whiteside added that its new distribution facility in Enfield will be operational in October, with an investment programme focused on increasing logistics capacity and solidating manufacturing bases.
Connor Campbell, a senior market analyst at Spreadex, said of the results: 'It seems like Greggs' shift towards healthier grub is beginning to pay off. Yet a lack of substantial update on any Brexit impact, as well as the general losses incurred by the FTSE 250 following the morning's weak construction PMI, left Greggs lacking a pleasant post-update aftertaste, the stock slipping by around 0.7 per cent.'