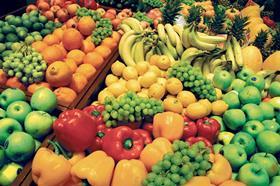 A community farm has opened what is being touted as the first fruit and veg stall inside a London Tube station.
Dagenham Farm – a 1.7 acre community farm alongside Central Park in east London – has opened the stall inside Dagenham East tube station, according to the Barking and Dagenham Post.
The farm was established in 2012 with funding from the Big Lottery's Local Food Fund until March 2014, when it was approved as fully organic. It was set up by Hackney-Based Growing Communities, which seeks to create sustainable food and farming systems to feed Londoners.
It produces about five tonnes of vegetables a year, and its 'Grown in Dagenham' project is aimed at involving local and young people in life on the farm and helping them to develop new skills.
Project coordinator of the Made in Dagenham project, Kerry Rankine, told the Barking and Dagenham Post: "It's a chance for residents to access fresh, seasonal, locally grown produce. They can find out how to improve their physcal and metnal health by volunteering."
Though the Dagenham plot is one of the more productive urban farms in London, it's hoped that this successful Tube station enterprise could spark similar startup projects elsewhere.