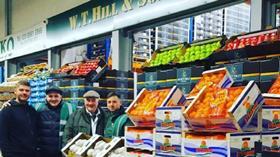 Fresh produce trading platform FruPro has already saved hundreds of pallets of fresh produce form going to waste, as the coronavirus pandemic continues to affect food supply chains.
Launched last week to help fight food waste in the wake of the pandemic, FruPro CEO Will Hill thanked major foodservice and catering suppliers Reynolds for using the platform, estimating that together they have helped feed nearly 500,000 people.
Hill said so far FruPro has moved 251 pallets of fresh produce, equating to 36,741 packages, and around 178,705kg of produce.
"Food banks are also really in need of our support as well and we would be keen to contact them and get a process in place for them to collect product from the markets across the UK by connecting on the FruPro platform," said Hill.
Currently, FruPro is focused on diverting produce to independent retailers. This includes food markets, corner shops and greengrocers, as well as the growing fresh produce delivery sector. They are also developing a mechanism for transferring stock to food banks.
"Supermarkets do a great job, but we also need to support our independent retailers and charitable organisations," said Hill. "These businesses don't have the levels of bureaucracy and regulation that you see in supermarkets. This means that we can get stock to them quickly – and then on to the general public. Greengrocers, butchers and fishmongers have been supporting our communities for centuries – and I think the next few weeks are going to remind us how valuable they are."
With growers warning of severe labour shortages this season as travel restrictions across Europe prevent European seasonal workers arriving, Hill said the app is also aiming to find solutions for people looking to work in horticulture.
"Another very important project for FruPro is to aid and support the labour force in agriculture.We have a good number of contacts in the building and fitness industry and they are having difficulties as many of them are self-employed," Hill said.
"The labour force in the construction, fitness and many other sectors will face difficulties and it would be great if FruPro gave opportunities to find work in the agriculture sector.
"As we all know the agriculture sector is going to massively struggle to find labour going forward into the spring and summer season and this may be great opportunity to help the common good.
"We feel we have an amazing opportunity to boost our economy if we could even look at connecting the two needs and hopefully get some positive results."