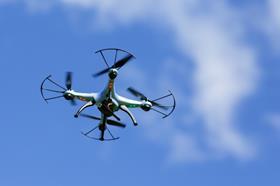 UK agri-tech firm Hummingbird Technologies has secured a further multi-million pound investment from major capital funds.
A group of investors led by BASF Venture Capital, and Canada's TELUS Ventures, backed the UK startup as it looks to expand its high tech farming services, with a 'series B investment round'.
In May Hummingbird received £7 million in a funding round led by Salic, Saudi Arabia's agriculture and livestock investment company.
Hummingbird said the investment will fund advancements in remote sensing, artificial intelligence, machine learning and data analytics for in-field precision farming.
Will Wells, chief executive officer at Hummingbird Technologies said: "We are delighted to have received investment from BASF and TELUS Ventures. The investment will allow us to augment our leading position in core international markets, to pursue expansion opportunities that involve API (Application Program Interface) software integration and to extend our machine learning advantage at both a team and code level.
"We have a clear target to become the leading global remote sensing player in AgTech, and with such strong institutional backers, and technical expertise behind us, our journey towards achieving this goal has gathered serious momentum."
Founded in 2016, Hummingbird is one of the leading agri-tech startups to come out of the UK. The firm has since developed a unique artificial intelligence, deep learning and imagery analytics captured from satellites, planes and unmanned aerial vehicles.
The company's technology processes image data to create precise harvest forecasts or accurately calculate how much fertiliser is needed, as well spot diseases and pest infestations.
"We want to support Hummingbird to develop new markets for its unique technology and establish new business models," said Markus Solibieda, managing director, BASF Venture Capital.
"Our colleagues in BASF's Agricultural Solutions division are already cooperating with Hummingbird. We are supporting these activities through this investment.'
Agricultural experts from BASF UK have been working with the startup since 2016 and supply aerial images to farmers. Hummingbird analyses these photos and gives farmers detailed maps of the various in-field zones for precision farming.