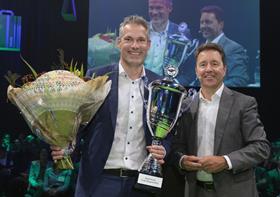 Fyffes has been named Plus Retail's best supplier in 2019, as well as picking up an award in the Dutch retailer's CSR category.
The companies have been working together to provide climate-neutral and Fairtrade bananas that are traceable thanks to blockchain technology.
Since the beginning of October, Dutch consumers have been able to trace the journey of each banana they buy, from Colombia to their shopping basket, via a QR code.
By offering supply chain transparency, Plus and Fyffes want to provide clarity about the origin of the bananas and inform shoppers of their joint efforts to protect workers and the environment.
The awards were presented at Plus Retail's supplier day, where Fyffes' key account manager Erik Brand said: "We are delighted to be honoured by these awards. It has been a challenging mission for all of us but the close cooperation between the Plus project team, our production, marketing and sales departments made it happen."