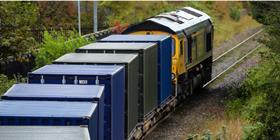 Britain's third largest rail freight operator, GB Railfreight (GBRf), has announced it is expanding its services as the country continues to struggle with supply chain issues.
The London headquartered firm, which moves 30 per cent of all containerised rail traffic in the UK, has launched a series of 'intermodal' services from the Port of Tyne to strategic rail hubs in Yorkshire and the Midlands.
This series of intermodal services comes as the Port of Tyne welcomes intermodal traffic to help ease the strains caused by simultaneous increased consumer demand and supply chain challenges, ensuring the delivery of goods across the UK.
John Smith, CEO of GB Railfreight, said: "As import volume levels grow, this campaign of services demonstrates how rail freight can offer a real solution to the current issues facing our busiest deep sea ports.
"We're proud to work with the Port of Tyne to operate this intermodal service. By unlocking extra capacity, this new flow can play a key role to ensure the timely and sustainable delivery of goods around the country."
Richard Newton, Commercial Director – Logistics at the Port of Tyne said: "We're delighted to work with GBRf to enhance our service and provide another route to market, in addition to our own haulage, port centric warehouse operations and transshipment to other UK ports. This boost to our offering demonstrates our capability to provide flexible and bespoke, solutions to our customers."
Founded in 1999 and headquartered in London, GB Railfreight is the third largest rail freight operator in the United Kingdom, with a turnover expected to exceed £225 million in 2021.
GB Railfreight is one of the fastest growing companies in the railway sector and transports goods for a wide range of customers.