Branded variety back on shelf following earliest ever volumes from South Africa and Peru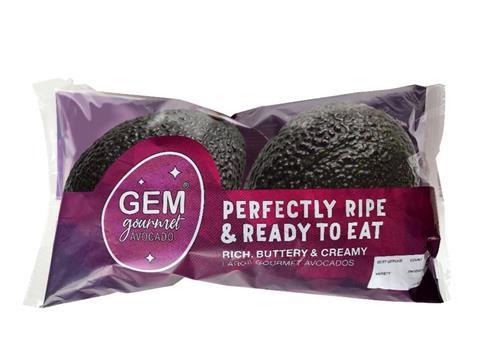 Gourmet avocado brand Gem is back on shelf at Tesco, marking the variety's earliest ever start to the season.
Fruit from South Africa and Peru will be available in September with further volumes following from other countries.
The branded variety, which is exclusive to Tesco, has gone from strength to strength since its launch in the UK in September 2019.
The avocados are grown in a number of countries, where the fruit is left on the tree for longer before being picked, giving Gem a rich, nutty and slightly sweeter flavour, combined with a smoother, creamier texture than many other avocados.
The avocado category in the UK continues to grow, with younger people the drivers in the category.
Health and enjoyment are key purchasing reasons across Gem's shopper base, and amid the cost-of-living crisis the new marketing campaign from the brand wants to drive repeat purchases through the product's consistent quality and value for money.
Alongside a full marketing campaign, Coregeo is this season facilitating the brand's first 'Money Back Guarantee' on ripe-and-ready Gem avocados.
Coregeo has been working in partnership with Westfalia Fruit since Gem launched in the UK.
General manager of Westfalia Fruit UK, Graham Isaac, said: "We have seen excellent growth in Gem since we launched it exclusively into Tesco. Our campaign targeting the health and wellbeing benefits of the fruit, backed up by high quality for customers to enjoy, consistently have proven the right messages are getting through."