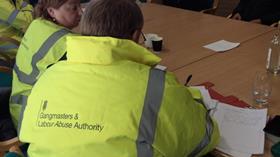 The Gangmasters and Labour Abuse Authority has contacted agricultural labour sites across the south of England and Wales to offer support during the coronavirus pandemic.
Advice on how to spot the signs of labour exploitation and where to report concerns has been issued ahead of the GLAA visiting farms directly over upcoming weeks to give further guidance to the industry.
The engagement activity ties in with the temporary licensing scheme established by the GLAA for the food production sector in March, the agency said.
Temporary licences are currently being granted to businesses operating within the wider labour supply industry who wish to support GLAA licence holders to feed the nation.
Phase two of the operation will see GLAA investigators conduct welfare visits to ensure that farmers are getting the help that they need and that their workers are not at risk of exploitation.
The GLAA has been supported by a number of partners including the NFU in spreading the message to all sites in the area.
GLAA senior investigating officer Jennifer Baines said: "Despite the obvious challenges this awful virus has presented, we remain committed as an organisation to not only be heard by frontline workers during the crisis but also to be seen. They are doing an incredibly important job for the country at this difficult time which we recognise and want to help them with.
"Following the initial contact we have made, we are keen to increase our visibility to check that standards are being maintained and that some of the most vulnerable and hidden members of our society are being treated fairly. This will clearly take place while adhering to the strict social distancing restrictions to minimise the spread of the virus.
"We understand the pressures farmers and growers are currently facing in picking and harvesting crops, not only during this pandemic but beyond. As the coronavirus crisis subsides, we know that there will be uncertainties around the availability of foreign workers and the booking of future travel.
"In these times, more than ever, it's vital that you report any concerns or suspicions that you have to us. The potential for labour shortages in the near future could create conditions in which exploitation can thrive if we are not alive to the risks."