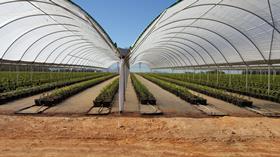 When it comes to BerryWorld, as is often the case, the clue is in the name. Yes, the soft-fruit supplier may have cornered about a quarter of the UK's berry market, and yes, Britain remains its biggest source of sales, with nearly one in four punnets sold in the UK now supplied by BerryWorld, but you'd be mistaken to think these shores are its only focus. Chief executive Adam Olins has a much more global outlook nowadays. As he puts it, he's just as pleased to see his company supplying Mexican blueberries to Walmart as he is English strawberries to Tesco, or Dutch raspberries to Albert Heijn.
"I'm interested in growing a global business," he says with conviction. "In the last ten years we've been extending beyond the UK, not just for supply back to the UK but to sell berries in local markets too. BerryWorld started off as a very small business 25 years ago, marketing soft fruit on behalf of a small group of UK growers. Back then, British supermarkets' berry business was just beginning because supply was so irregular compared to other products such as topfruit or citrus, so there was tremendous scope to organise the supply side. And over the years we've managed to replicate that model in different parts of the world."
New beginnings
The company now has teams in eight countries, suppliers in 25, and 21 exclusive varieties being sold across 37 countries, spanning Europe, Africa, Asia and Australia. In the last three years in particular, the supplier has made some big investments, expanding into Australia, Spain, the US and France. Its most recent partnership is with major glasshouse grower Mastronardi Produce in Michigan to grow strawberries for the US market. Up until that point Mastronardi had specialised in tomatoes, peppers and cucumbers, sold under the Sunset brand.
In many ways, the partnership is similar to Olins' joint venture with Dutch glasshouse grower Beekers Berries, which in 2018 turned into an acquisition for BerryWorld. "The chief executive Will Beekers used to be a cucumber grower, so in our minds there were a lot of similarities," Olins says. "Again, we were going into business with someone who was mainly involved in different glasshouse crops and then wanted to grow glasshouse strawberries." Both tie-ups have allowed BerryWorld to grow soft fruit out of season and shore up its year-round supply with good quality product – "the difficult parts", as Olins puts it.
Now in its 26th year as a company, BerryWorld's aim is to notch up another quarter century of growth, Olins says. "The business has moved on a lot since we started, and the company and industry is likely to change a good deal more" – but he seems very comfortable with this – testament to the kind of adaptability you so badly need in the fresh produce game.
"I imagine the UK business will become a smaller percentage of the overall BerryWorld Group as our international sales rise, but we're not looking to expand into lots of new markets right now," he continues. "We're now present in many countries, and we want to really establish ourselves there. The hardest bit is the first few tonnes you sell in any country, and once you get over that and you're providing a very good product, you know it's going to sell."
Turning back the clock
Since it is only early days for the company in the US, France and Germany, all of which are big markets, Olins sees big scope for growth there. The producer has also started supplying the local market in South Africa following the acquisition of Eurafruit Local last year and is confident of growth by offering consumers better quality soft fruit. Further down the line, India, China and other parts of Asia could also be hugely lucrative markets, but for the time being, Olins insists he doesn't want to spread the business too thin.
In establishing supply in some of its newer markets, like Australia for instance, Olins says he has really enjoyed some of the meetings he's had with retailers. "Over the last five years we've set up in several different countries and it's almost like starting again. You go through a very similar process and you often see history repeating itself, which is quite fun," he says with a smile.
One place Olins never thought he'd see his berries is the Middle East, but sure enough last year he was invited to visit Abu Dhabi's wholesale market – which he said was "like stepping back in time" – and picked up a punnet of BerryWorld-branded blueberries.
As well as selling branded products business to business, BerryWorld also has a consumer-facing brand, and last year the company redesigned it to feature a white 'B' on the packaging. The company said it expects 2019 global sales of its BerryWorld-branded products to exceed £20 million. In the UK its branded range is available on both Ocado and Amazon.
Breeding success
As a soft-fruit breeder too, the company has had tremendous success over the past quarter century. In strawberries, it has launched a number of new and exclusive varieties such as Sweet Eve and Eve's Delight, which are now grown and sold in the UK, Europe and Australia, with North America to follow.
In blueberries, meanwhile, the company gained exclusive rights to the Mountain Blue Orchards' breeding programme in Europe and Africa in 2017, with some of the latest varieties from that programme winning iTQi's Superior Taste awards. However, the group's standout varietal successes have been in the raspberry category, Olins says, with core variety BerryWorld Gem and premium raspberry BerryWorld Jewel "changing the game" by being adaptable and consistent in quality.
From a production perspective, it's not all a bed of roses, however. Although there has been huge improvement in the category over the past 20 years, there are still real opportunities to improve continuity of supply and berry quality, Olins believes. And amid picker shortages and rising wage bills in the UK and Europe, demand is growing for robotic harvesting.
Production headaches
Unfortunately, automated solutions are still "quite a long way off", with technology not advancing as quickly as he might have expected in the last five years. "As long as berries are field-grown, robotic harvesting will be relatively difficult since berries mature at different rates on the plant," he says. "There's a lot of work going on behind the scenes but it's a very difficult task so it's not something that's going to happen overnight."
One way that the industry has tried to mitigate the labour shortage is by breeding and growing larger berries that don't require as many man hours to pick. "Nobody is growing small berries any more," he says, "even if they do taste great."
From a sustainability perspective, the two main challenges for the business (unsurprisingly) are packaging and water availability, Olins says. The recent droughts in Australia, which could be the worst in 80 years according to The University of Melbourne, meant propagators in one part of the country were unable to produce enough runners to grow strawberries. Meanwhile, a severe lack of rain in South Africa in recent years has pushed BerryWorld to set up production in other areas of the country. "Climate change has meant we're having to deal with more weather extremes, and as such an international producer, we're nearly always faced with something," he says.
Taking the long view
Across the supply chain Olins would like to see people take a longer-term view and have a better understanding of the climate challenges and time constraints companies face in growing and breeding soft fruit. Keeping all his customers, suppliers, and the many tentacles of his global business happy is his number-one challenge, he says – above labour shortages and sustainability headaches. But as a 60-year old businessman, with almost 40 years' experience in the fruit industry, you can tell this is a challenge he relishes.
The best part about running a large international fruit supplier, he says, is that "you're able to have a positive influence on what's on supermarket shelves and what people are eating", as well as giving your employees opportunities to work all over the world. "That's pretty great," he says with a smile.