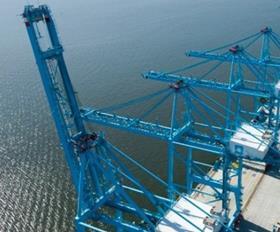 The government is proposing creating a series of so-called 'Freeports' to regenerate ports around the country.
Under proposals that could have implications for the fresh produce trade, Freeports could be tariff-free zones with reduced processing costs and special tax regimes.
The government has launched a consultation setting out its vision for up to 10 new Freeports across the UK, with the aim of announcing the locations at the end of the year and opening them for business in 2021.
Once the 10-week consultation is completed, sea, air and rail ports will have the opportunity to bid for Freeport status.
The government said Freeports would boost trade, jobs and investment with a view to 'building innovative business clusters that benefit the local area as part of the government's commitment to level up every nation and region.'
They will feature 'cutting-edge customs, transport and green technologies to be trialled in controlled environments, before being adopted more widely in relevant sectors of the economy,' it added.
Proposed elements of Freeports could include:
- goods brought into a Freeport do not attract tariffs until they leave the Freeport and enter the domestic market
- no duty is payable if they are re-exported
- when raw materials are imported and processed into a final good, duties are only paid on the final good
- Freeports could be located inland as well as adjacent to ports. This can reduce relocation or investment costs for existing manufacturing sites near ports
- a full customs declaration would not be required to move goods into a Freeport. This saves businesses time and makes it easier to import goods
- planning reforms to help sea ports develop within their boundaries and empower local councils to greenlight much-needed local construction projects
- a regeneration agenda to level up the local areas around Freeport
- innovative environments to trial new technologies
- challenge-based initiatives to build collaborative partnerships between ports, businesses and innovators.
In addition, the government said it is considering tax measures that aim to:
- increase investment in infrastructure, construction and machinery in Freeports to raise productivity
- incentivise research to stimulate innovation in Freeports
- cut costs associated with processing goods through a port
- reduce the costs of hiring workers working in Freeport sites.
Secretary of state for International Trade Liz Truss, said: 'We are taking back control of our trade policy, and opening every corner of the UK to opportunities across the world.
'Freeports will unleash the potential of our historic ports, creating jobs and regenerating communities across the UK. These hubs will also deepen partnerships around the world as we restore our economic and political independence.'