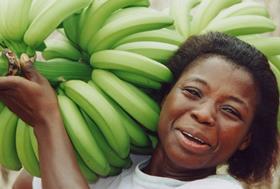 The UK government has said it does not plan to waive the extortionate post-Brexit tariffs paid on imports of bananas from Ghana amid calls for producers to be recompensed.
In the absence of a free trade agreement, Ghana was moved onto standard Generalised Scheme of Preferences (GSP) terms at the end of the Brexit transition period. Bananas have faced the highest tariff of £95 per tonne.
Major UK banana supplier Compagnie Fruitiere, which has extensive growing operations in Ghana, has expressed its frustration at the situation.
'We are making representation at the highest levels of government in both the UK and Ghana to ensure a swift and satisfactory resolution to this problem and to recompense us for duties paid," said managing director Keith Sadler.
Banana Link,a UK not-for-profit cooperative that works for a fair and sustainable bananatrade, has also calledon the government to return to the producers any tariffs paid this year before a trade deal can be reached.
This is a serious issue for Ghanaian growers and British suppliers since the UK takes around 40 per cent of Ghana's total banana exports.
It was announced on New Year's Eve that the UK and Ghanaian governments had "reached a consensus on the main elements of a new trade agreement", providing "the basis to replicate the effects of the existing trade relationship between the UK and Ghana".However, at the time of writing, an agreement was yet to be finalised.
Sadler said Compagnie Fruitiere is "obviously extremely disappointed that the UK Government has moved Ghana onto standard GSP terms and started to apply the highest tariff of £95 per tonne".
He added: 'Compagnie Fruitiere is committed to its African growing operations and has invested over$70 million in the Ghanaian fruit sector over the last 15 years, contributing to the creation of thousands of quality jobs, particularly in rural areas where there are few alternative income sources.
'In recent years, we have significantly expanded speciality production, including into organic and Fairtrade products, in order to satisfy UK market demand.
"We are currently facing tariffs costs £20,000 plus per week and this is clearly unsustainable for us."
The British government's Department for International Trade (DIT) responded that there were no plans to waive or pay back these tariffs before a trade deal is done, but said ministers have agreed to work at pace to finalise the agreement so as to minimise the gap in preferential access.
A spokesperson from the department added: "The UK and Ghana have reached consensus on the main elements of a new trade agreement designed to remove tariffs on UK imports and are working together to bring it in to effect.
"With willingness on both sides, the agreement can be finalised and brought into force quickly, restoring tariff-free trade for Ghana. In the meantime, Ghana is eligible for the UK GSP scheme."
According to Banana Link, Ghana's Volta River Estates Limited (VREL) plantation exports around 9,500 tonnes of Fairtrade-certified bananas to the UK each year for sale at the Co-op and Waitrose. It had to pay a duty of£16,000 on nine containers of bananas.
Meanwhile, Golden Exotics Limited (GEL), which exports around 83,000 tonnes of Fairtrade and organic bananas to the UK each year, had to pay a £17,000 duty on its first post-Brexit shipment to arrive in the UK this year.
Volta River Estates Limited was the first banana plantation in Ghana to be certified Fairtrade in 1996, and today employs more than 700 people directly, while neighbouring Golden Exotics employs around 3,000 directly, and 12,000 indirectly.
Both companies represent the only source of work within a 30-mile radius for the local population in the Eastern Region of Ghana.
Huub van den Broek, managing director of VREL, said: "It is obvious that Volta River Estates Limited cannot survive this increase in duties, not even in the short term."
He added: "This is happening at the same time that weagreed with the unions to increase the salaries towards the Fairtrade base rate starting in January 2021."