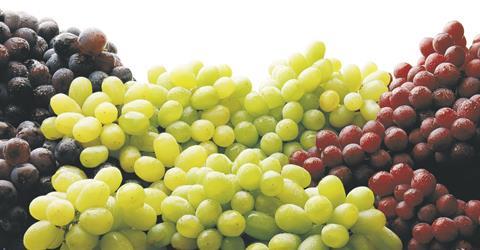 Grapes have become such a mainstay of the fresh produce aisle these days that the challenge is how to maintain and grow the category further.
Worth a hefty £776 million at retail and with 1.6 and 2.2 per cent value and volume growth respectively in the past year [Kantar Worldpanel, 52 w/e 22 May], the grape category continues to look in fine fettle. Growth has been driven by increased purchase frequency, though the sector has been held back somewhat by price deflation and smaller purchases per trip. The latter may in turn be a reflection of increasing availability of smaller pack sizes better suited to individuals and smaller households as consumers look to cut back on waste.
Certainly suppliers still see grapes as a significant growth opportunity. Rebecca Quiney, business unit director at Wellpak, says the company is seeing stable pricing and buoyant demand, particularly in the foodservice sector, and is investing further as a result. "There is currently good availability of fruit on the market," she adds. "The Egyptian product is available for the next two to three weeks. Spanish and Moroccan seasons have just started, mainly with green grapes, with volumes expected to reach their peak in mid to late July through to August."
Red grape volumes from Spainare set to increase slowly and reach their peak mid-August through to September.
Wellpak will be moving to 100 per cent Spanish grapes from next week until the end of the season in October, Quiney says. "Our grower has several areas of production: one located in the Region of Murcia and others in the province of Badajoz. The farms in the Region of Murcia are located 20 metres above sea level to 750 metres. This is key to ensure continuous production and the highest quality of grapes.
"Wellpak has good availability throughout the Spanish season, with additional volumes available to offer new customers, and pricing lower than last year."
Compared to other seasons, the Spanish season has started as expected, with good quality, although yields on white grapes are lower than last year due to low density of bunches.
Elsewhere, for international shippers things are also looking good at the moment. The California grape season started at the beginning of May and so far sendings are ahead of the volumes shipped last season, according to Susan Day, vice president for international marketing at the California Table Grape Commission. "As larger volumes become available we expect to see more availability in the more than 60 countries to which the industry exports each year," she says. "While the US domestic market comprised 66 per cent of the total crop in the 2015-16 season, exports continue to be very important."
The California table grape industry is producing more than 85 varieties of green, red and black grapes, and while exports to the UK declined last season, that was primarily due to untimely rain in California. Prior to last season, the UK market had been growing for several years, with exports to the UK between 2011-12 and 2014-15 increasing by 226.5 per cent. "We would expect the 2016-17 season to continue the growth and, based on discussions with the UK trade, volumes should return to at least 2014-15 levels or greater," Day predicts.
In Greece, a warm and dry winter was compensated for somewhat by spring showers, but volumes are still expected to be slightly lower than last year's crop, reports George Frangistas, managing director of exporter Gefra. Harvesting is expected to start somewhat earlier than the usual mid-August, after concern over the crop in early May evaporated and flowering and development went well.
Gefra supplies seedless grapes to the UK market, as well as various other European countries, and Frangistas is confident of a strong season. "With continued favourable weather conditions, we expect superb quality, with the odd tight bunch here and there," he says. "Price is too soon to speculate on, but assuming a smooth transition from Egypt to Spain to Greece, and no weather-related surprises, we can expect last year's price level."
The grape sector would seem to be on a roll and it will be interesting to see what innovations and initiatives can help take the sector to the next level. The California Table Grape Commission, for example, is implementing expanded in-store and a variety of other promotions with major UK retail chains this season to bring the California table grape message to consumers.
Samplings will be on offer to allow consumers to try the various flavours and textures of the grapes available from California, to encourage purchase and remind them of the quality of the product.