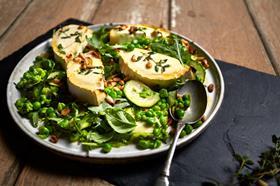 Great British Pea Week is returning from 8-14 July to boost awareness of the little green vegetable and celebrate pea harvesting season.
This year's Great British Pea Week sees recipes created by chef and longstanding campaign supporter Rachel Green, as well as consumers urged to share their experiences on social media using the hashtag #GBPW.
The UK is the largest producer and consumer of frozen peas in Europe, with the average person in Britain eating nearly 9,000 peas per year. This July, approximately 700 pea growers will harvest two billion portions of peas to feed Britain for the year.
Lasting an average of six to eight weeks, the harvesting process sees producers working 24 hours a day, seven days a week using viners to harvest, shell and transport the peas from field to frozen as quickly as possible, with the majority completed in just 150 minutes.
The hi-tech machinery and exact precision needed during harvesting requires growers to collaborate to produce the crop, and there are currently 18 farmer groups along the east coast of the UK, from Essex to north of Dundee.
Stephen Francis, member of the YesPeas! campaign, said: "Great British Pea Week is back for its fourth year to inspire the nation to cook with peas during harvest season and reconnect people with the important heritage and provenance of frozen peas and their fascinating journey from the field to our freezers.
"The locked-in freshness of frozen peas means we can enjoy British peas all year round, so Great British Pea Week is here to put peas firmly on the food agenda and give everyone a reason to enjoy this versatile and nutritional vegetable at the peak of the British harvesting season, as well as all year round."