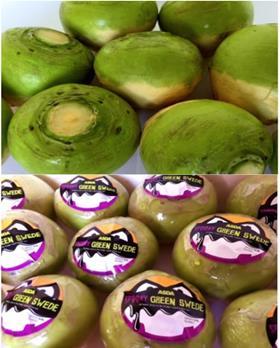 Asda is looking to attract Halloween shoppers with its new innovation, green swede.
Grown for the retailer by Stewarts of Tayside, and retailing at 97p in Asda stores across the UK from Saturday (24 October), it is anticipated that more than 20,000 shoppers will pick up their own ghoulishly green swede to adorned doorsteps with this Halloween.
The swedes, which have taken six years of trials to produce, have been crossed with Green Skin Swedes and traditional swedes in order to obtain a stronger green colouring and deeper flavour.
Stewarts of Tayside, which specialises in swedes and berries, has worked with Asda for over 20 years, and been growing the product exclusively in the UK for Asda.
Brian O'Shea, Asda regional buying manager for Scotland, said: "Following a successful trial over the last two years, we're thrilled to launch this innovative new product across the UK. Carving swedes for Halloween is a tradition that dates back to the Victorian era so it's great that it's coming back on trend. It's even better that a renowned, local Scottish producer is growing these vegetables and leading the way.'
Liam Stewart, commercial director at Stewarts of Tayside, added: "The new green swedes have been grown especially for Asda and Halloween. They are the latest product in a long line that we have produced for Asda over our successful 20 year relationship.
"Our green swedes feature a deeper, earthier taste than traditional swedes but are still packed with all the health benefits you would expect, including a hearty boost of Vitamin C."
As the green swede hits Asda shelves, Mintel data has revealed 50 per cent of all adults in the UK will purchase Halloween food, up nearly 10 per cent on 2014, and Asda predicts a 20 per cent increase in Halloween sales across all products on 2014.
Around £240 million was spent in 2014 by Brits on the holiday, and researchers predict this figure to be even closer to the £300m mark this year.