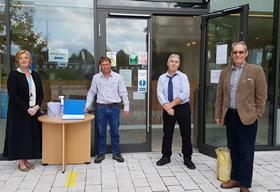 A group of south-Lincolnshire growers, known as the AHDB Review Petitioners, has questioned why the official ballot on the horticulture levy of the Agriculture & Horticulture Development Board (AHDB) will not take place until next year, and has warned that any attempt by AHDB to use the timescale to promote its activities will be viewed in a negative light by the industry.
On Tuesday 6 October, AHDB confirmed that the number of grower requests for an official ballot on the levy had exceeded the required threshold, but also suggested that, due to the need to appoint an independent company to administer the process, the vote itself would not take place until January 2021.

The ballot was described as "the elephant in the room", by AHDB chair Nicholas Saphir at the online FPJ Live event on the same day. Saphir added: "AHDB is duty bound to call a ballot and it is the first ballot that has been called in the history of AHDB… The programme will have to be developed on how the ballot is called. We are duty bound to appoint an independent overseer which is in process now, we then have to verify who is entitled to vote, we have to send out voting papers and we have to allow some time for the arguments to be developed on both sides. My guess is we will see a ballot take place early in January."

The length of time that AHDB says is necessary to organise the ballot has been queried by the AHDB Review Petitioners who organised the request for a ballot.

Spalding-based flower grower and AHDB Review Petitioners co-organiser Simon Redden said: "We trust that AHDB will not use this 'verification process' to deny a vote to those growers who have paid the levy prior to the publication of the Defra review, but due to the challenging economic conditions caused by the weather and Covid-19 in 2019/20 may currently be in arrears in their current levy payments. Such growers must not be disenfranchised at this crucial time.

"We were able to appoint Civica Election Services and launch our own ballot within three weeks, so we can't understand why it should take an organisation the size of AHDB three months to do the same for a single question. The AHDB has already had six months to respond to the results of Defra's call for views and have only now just started to talk about 'serious reform' when faced with a grower driven ballot which they never anticipated."
ADHB issued a response to the south-Lincolnshire petitioners, who collectively farm 2,025ha and have a combined turnover of £20m, reiterating its obligation to growers to follow government guidelines in order to guarantee the legitimacy of the ballot process.
In a statement, AHDB chair Nicholas Saphir said: 'AHDB has a responsibility to all levy payers to adhere to the processes laid out in statute. This dictates that we follow the government's Crown Commercial Services procurement process to appoint an independent organisation to administer the ballot.
'As an arm's-length, non-departmental government body, if we do not follow the rules, any ballot process could be declared null and void.
'AHDB is an evidence-based levy organisation and, as such, will ensure that correct information is available for growers to make fully-informed decisions.'
Enjoyed this free article from Fresh Produce Journal and its team of editors? Don't miss out on even more in-depth analysis, plus all the latest news from the fresh produce business. Subscribe now to theFresh Produce Journal.