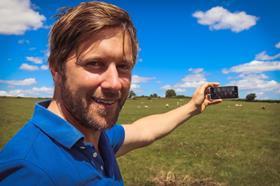 With 200 schools ready and waiting to be matched, the team behind the Farmer Time initiative are urging farmers and growers across the country to sign up now for Farmer Time, linking farms to schools via digital channels.

Hugely successful since its launch in 2017, the campaign has already matched over 600 schools and farms, reaching nearly 16,000 children and doubling in numbers from the previous academic year.
It's highly rated within the farming community too. The annual Farmer Time Impact Report for 2020 revealed that 100 per cent of farmers enjoyed the experience, 96 per cent will be continuing with Farmer Time and 71 per cent spoke to children about careers in farming.

Carl Edwards, director of education and public engagement at LEAF Education which coordinates the initiative, said: "Engaging with schoolchildren has never been more important after this challenging year and we are particularly delighted to have so many schools signed up. We've already seen the incredible impact Farmer Time is having on educating, inspiring and engaging children with farming, how their food is grown and where it comes from.

"Not only do each and every one of our participating farmers enjoy this initiative, it is immensely rewarding in the impact it has on schoolchildren and it has been specifically designed to take up as little time as possible from busy farm life. We encourage farmers across the country to sign up and help children to broaden their horizons after such a constrained time during the pandemic."

Farmer Time is sponsored by Sainsbury's, Strutt & Parker and G's Fresh, and enables pupils to regularly chat live with their matched farmer from their classrooms through a video call platform, such as FaceTime or Zoom.
Founded by Tom Martin of Village Farm and coordinated with LEAF Education, Farmer Time brings farming directly into the classroom by harnessing the power of digital communications to inspire, engage and educate young people about the journey from farm to fork and the everchanging, diverse agricultural industry, LEAF said.
Children regularly chat live to their matched farmer from their classrooms, discuss ideas, ask questions, share knowledge and gain a 'real-time' understanding of the issues farmers face every day. This connection allows a 1 to 1 relationship to develop between one class and one farmer.
LEAF said 100 per cent of teachers would recommend the initiative and 68 per cent of teachers have completed follow up work in the classroom after their sessions. 100 per cent of teachers felt their students learnt something new and enjoyed the experience.
If you would like to take part in this free initiative, visit www.farmertime.org to register your interest.

LEAF Education is the education arm of sustainable farming organisation LEAF (Linking Environment And Farming). LEAF works with farmers, the food industry, scientists and consumers to inspire and enable sustainable farming that is prosperous, enriches the environment and engages local communities.