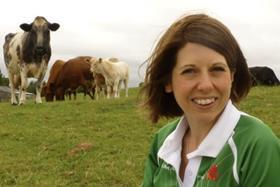 Fresh produce growers need to get on the front foot and engage more with the media to help consumers see all the positive things the industry is doing.
That's the view of journalist and broadcaster Anna Jones, who has set up a network called Just Farmers to help bring fresh food producers and the media closer together.
Jones, who spoke at this week's Onion & Carrot Conference in Cambridge, said that farmers had a distrust of the media that was exacerbated by a slew of negative headlines by London-based journalists. The hashtag #farmerbashing has been used to highlight some of the worst examples.
Similarly, many journalists perceive the agriculture industry to be secretive and defensive, unwilling to engage and acting like it has something to hide.
The problem is not unique to the UK, said Jones, who has completed a Nuffield scholarship on this subject. 'There is a deep disconnect affecting the urbanised West,' she explained. 'In the US agriculture has been amputated from the rest of the country. It's been syphoned away into the flyover states where people think nothing happens. In Kenya, by contrast, farming and rural life is central, with 75 per cent of farmers earning some part of their living from it.'
In Britain, Jones - who has directed Countryfile and produced and presented Farming Today - described the mainstream media as being 'as urban as the audiences they represent. 'Journalists think there's too much defensiveness in the farming industry and farmers feel entitled to positive reporting,' she added. 'Both farmers and the media share responsibility.'
Jones' organisation aims to get farmers and professional journalists together to understand each other better and break down barriers for the sake of more accurate reporting.
She said that while industry bodies play a key role, they are too often acting as industry mouthpieces and it is important to hear more from producers on the farms themselves. Farmers are the ones with the real-life experiences and human stories that people want to hear about, she said.
But while Jones has built up a strong network of agricultural farmers who are now willing to engage with the media and discuss industry issues, she said horticulture is still the missing element, with very few growers taking part. And she stressed they have nothing to be afraid of: 'Who culd possibly have something against the carrot?' she asked. 'You are the angels of food production. You guys have the good news stories. So how come I know so few growers?'
Urging more fresh produce growers to get in touch and share their stories, she concluded: 'I want to help build confidence among independent farmers to talk to the media and in turn help the media understand the industry. It's about media education, not training.'