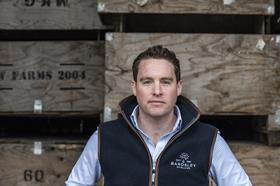 Ben Bardsley cuts a rare figure in fresh produce. The young managing director of Bardsley England gives the impression of a Silicon Valley entrepreneur transported from the arid hills of California to the Kent countryside, bringing a level of energy and vision to fruit growing that is much needed if UK production is to boldly march into the future.
Bardsley is big on entrepreneurial spirit and the clarity and intensity by which the 34-year-old expresses his goals is one of the first things you notice in conversation with him. Combined with a restless ambition, you can see what lies behind Bardsley England's phenomenal growth in the past six years, when he took over from his father at the helm of the Kent outfit.
For starters, Bardsley has achieved 1,000 per cent growth in packing volumes, from 3,000 tonnes of fruit in 2013 to 37,000 tonnes, and more than tripled production. Frighteningly, he says it's only the start.
At the beginning of 2019 Bardsley unveiled a new chapter for the business, leaving behind the old name Bardsley Farms, to create a brand fit for the future – Bardsley England. The move has already generated greater customer engagement, according to Bardsley, an engagement he is hoping will soon be global as the company begins its first exports this year.
A SHORT HISTORY OF EVERYTHING
Stepping back, the stunning rise of Bardsley England is something of a parable for the British fruit industry worth documenting. A fifth-generation grower, Bardsley took the helm of the business from his father Nigel Bardsley in 2016.
"Dad had a great career, he took the business from being a traditional fruit farm with sporadic plantings to an intensive business, geared towards supermarkets. He realised he needed to produce more fruit with greater quality from less land."
Nigel Bardsley was a highly respected stalwart of the UK topfruit industry by the time Ben was brought into the fold, but it's unlikely he knew the extent of his son's ambition.
"I joined when I was 28, six years after leaving university, and came back with a clear idea of what I wanted. From day one I thought 'I need to grow this business'. I spent the first year bedding myself in, just trying to understand the market and the industry."
The following year, Bardsley took responsibility for the packhouse, because "that's where the business is won and lost". It was there he came to the realisation that serious growth was necessary to achieve the economies of scale required to grow.
Following his appointment as managing director, Bardsley quickly set about shaking the tree with a series of big money moves to generate capital. Step one was switching marketing desk from Norman Collett (now Avalon Produce) to the Belgian multinational Greenyard. "That opened up a big opportunity to pack more fruit. We doubled our packing in a year with that move, taking us up to around 7,000 tonnes of packing."
Step two: investment. Bardsley secured his first round of funding from Greenyard in 2016, giving 30 per cent of the business for £2.1 million. "Our packing volumes went up to 15,000 tonnes and we were still producing about 3,500 tonnes of fruit. We then invested nearly £6m into what you see today."
The biggest move of Bardsley's fledgling career came in July 2018 when he procured 240 hectares of orchards across 5 sites around Canterbury which brought Bardsley England's fruit production up to 10,000t of fruit per year.
To cap it off, in March this year he sold a further 20 per cent of the packing business to Greenyard and packing volumes leaped to new levels. "It's a true JV," he says. "This year we will process 37,000t, and grow 10,500t."
Those numbers now place Bardsley England as fourth largest topfruit packers in the country. "Now we're absolutely competing on the same playing field as the largest and most efficient fruit farming businesses," he says. The company now employs 390 staff at peak production, but "2019 is only the start of what we're trying to achieve", he adds.
LEARNING THE HARD WAY
Bardsley's quick history of his company's ascent makes it seem like a procession. But the growth has been the culmination of hard lessons learned in the industry and Bardsley's eclectic past.
Bardsley's first taste of business began while a student at Newcastle University, having founded a property and letting business, as well as a student cleaning company, which he sold following graduation to join Royal Military Academy Sandhurst.
As an officer, he nurtured his leadership skills in the toughest of situations, leading a platoon in the war against the Taliban in Afghanistan. The battle, which continues to this day, nearly claimed his life after being shot in the chest in an ambush while on patrol. Despite the severity of his injuries, life-saving surgery saw Bardsley make a full recovery and return to work seven months later.
"I always wanted to join the army. It's a good platform to develop leadership and people management skills. Certainly, the army enormously helped me and shaped me in dealing with stressful situations when the chips are down. In fresh produce it doesn't go your way all the time – it's a difficult business, but it's about how you react to those testing times. What the army taught me was no matter how bad it is, it's never that bad. Every problem can be overcome and solved one way or another."
Bardsley also received a harsh lesson in business from a loss-making year in 2017. "We lost our efficiencies and we didn't have the orders – there was simply not enough product going through the site. You have got to learn from your mistakes, we are now stronger as a result and have delivered a large profit swing in both 2018 and 2019."
AIMING FOR THE TOP
As Bob Dylan once bellowed, "you better start swimming or you'll sink like a stone", and Bardsley has no intention of sinking. He is acutely aware of the need for business to keep swimming through innovation to ensure future success.
"I always work with a rolling two, five and ten-year plan. We are investing heavily in our orchards in the next 24 months and investing £5m into our fruit production. We're then investing a further £10m in the supply chain, robotics in the packhouse, software development, greater warehouse and dispatch facilities, DCA storage and pallet storage."
Within five years Bardsley says the company is looking to invest in land as well as orchard growth and greater diversification, expanding the juice brand and other added-value opportunities.
Beyond that, the robo-topia beckons and Bardsley is a big champion of robotics' potential and the use of data. "The key thing going forward is data and technology. We're investing heavily into all kinds of data platforms and robotics. I genuinely believe in 10 years time I won't be employing anyone to do manual work, it will be totally autonomous through robotic and software integration."
Bardsley England also has global ambitions. Bardsley sees exports as having the potential to become "50 per cent of the business" in the future, and the company will mark a milestone this year when it ships its first crates of apples to Hong Kong and Vietnam.
"I would like to see the industry unite around exports, British is the brand – a strong one at that and with a joined-up approach together we can achieve a lot. British Apples & Pears under the leadership of Ali Capper is exploring the opportunities around this topic. We are very keen to help and be involved."
Having an internationalist approach is laudable, but in today's political climate of Brexit and Trumpian trade wars, global stability feels retro. Bardsley acknowledges that a hard barrier after Brexit could impact his packing business, with apples from abroad facing delays at the border. He is more sanguine about its impact on domestic efforts, however.
"Brexit means opportunity. For my business it's an opportunity. I see it as a huge positive. In the worst-case scenario [no deal] our product goes up in value and we have an opportunity to do more, otherwise things carry on as normal.
"Bardsley England is a tech-facing, disruptive business. We love change as a business, and we've profited off change up till now, and we will continue to do so. It's hard work –none of it is easy – but if you want an easy life, work in another industry. Fresh produce is tough but if you get it right, it's a hugely rewarding business."
For Bardsley the industry is rewarding in more ways than business growth, having recently taken over as chairman of NextGen Fruit Group. The new brand name for the Under 40s Fruit Growers, NextGen in the broadest sense is a networking group for the industry's bright young minds to club together to share knowledge, skills and friendship.
It's another key way in which Bardsley sees the UK industry working together to better compete on the global stage. Membership has already grown to 320 since he took over: "NextGen is very important to me and we've got some very exciting things in the pipeline," he says.
Despite his many plans for the future, Bardsley says he is trying to enjoy the ride as well. "It's good fun – I'm enjoying my life, enjoying what I do. I get up in the morning and I go for it," he says, while acknowledging that his team are the ones that make it work.
"It's all about the team, having the right people in the right positions. If you're going to grow a business, you need to have fantastic people around you. They must buy into the vision and understand what you're trying to achieve."