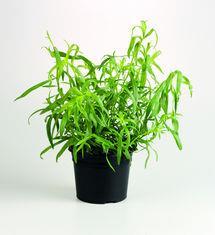 VHB has launched the first ever pots of UK-grown living tarragon into the domestic retail market.
Waitrose has the product in store retailing at approximately £1.45 until the end of the month and in a statement said it was "thrilled" to be the first supermarket to showcase the product.
VHB, also known as The Fresh Herb Company, identified a gap in the market for fresh tarragon when there were consistently low supplies of the cut herb during the time between the end of the UK season and the beginning of the overseas season.
The company has therefore invested in growing a crop for cut tarragon to ensure continued supply during this difficult changeover period and the launch of British-grown fresh living tarragon is an extension of this.
Ann Tenison, VHB marketing manager, said: "By introducing British-grown living tarragon, we hope to significantly improve consistent availability of fresh tarragon to consumers. We are constantly striving to be innovators within the herb industry and to push the boundaries of what we can do for our customers, and to increase the range of high-quality products we grow and supply."
The herb specialist produces French tarragon, which is similar in appearance to the Russian variety but very different in taste. Tenison said: "French tarragon contains the essential oil, estragole, giving it the sweet and aromatic aniseed flavour it is known for. The Russian tarragon is easily grown from seed, unlike French tarragon that needs to be propagated from cuttings giving it, its notable flavour."