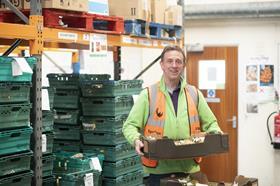 Salad and veg supplier G's has diverted more than 450 tonnes of surplus veg to FareShare, enough to create more than one million meals for vulnerable people.
Since partnering with FareShare four years ago, five G's sites across the UK are now regularly diverting surplus fresh food, including onions, mushrooms, beetroot, lettuce and radishes, to communities who need it most via FareShare's charity network.
The Covid-19 crisis has seen demand for FareShare's service soar, but, thanks to support from suppliers such as G's, the charity has tripled the amount of food supplied to vulnerable and low income people since the lockdown was first introduced, creating up to three million meals each week.
G's was able to reach the one million meals milestone after accessing funding through FareShare'sSurplus with Purpose Fund, which enabled the business to divert higher volumes of harder-to-reach surplus food at no additional cost to them.
The fund,launched last year and funded by Defra and The Walmart Foundation, aims to reduce food waste by offering grants of up to £50,000 to companies to help offset the additional costs incurred when redistributing surplus food to charities, saving edible food from going to anaerobic digestion or landfill.
The fund is open to new companies, as well as companies which already work with FareShare and are seeking to redistribute additional surplus food items. It can cover packaging and transportation costs, or lost income from the sale of surplus to animal feed or anaerobic digestion. It could also be used to cover the additional staff costs needed for packing and sorting edible surplus food, or in building, implementing and managing new processes.
Lindsay Boswell, FareShare chief executive, said: "Never before has it been more important to make sure everyone can access quality, nutritious food. G's has been a major supplier of FareShare's for several years and the company's unwavering support, particularly during the Covid-19 pandemic, has been critical in enabling us to significantly ramp up the amount of food we get out to those most in need.
"However, we know that the hard work is far from over, and as we enter a recession it is likely we will see a significant increase in the number of people experiencing hardship and placed at risk of hunger. With the support of companies like G's we're gearing up to ensure we can continue getting healthy fresh food to those who need it most, now and in the difficult months to come.'
Helen Peasnall, G's head of technical and CSR, said: "It is important that all citizens have access to healthy fresh produce as part of a balanced diet. We are pleased to have been able to support FareShare over the past five years and would encourage all fresh food business to get involved as it is an extremely valuable charity and eye-opening opportunity to focus in on waste streams."