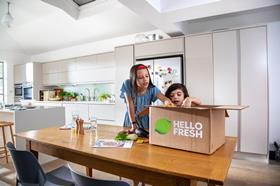 HelloFresh, theUK'sleading recipe box provider, saw continued strong growth in the UK in 2021, with net revenue increasing 69 per cent to £430.7m.
The business delivered over116m meals to UK customers in 2021, a growth of 81.7per cent year-on-year.
The company said the results reflect the ongoing shift in cooking across the UK, as more households value making meals at home.
According to HelloFresh research, half of Brits are cooking more at home now compared to a decade ago and are implementing a wider variety of food.
Despite the end of lockdown and the return of hospitality, the trend looks set to continue as UK consumers remain committed to cooking more from scratch and introducing more fresh ingredients (43 per cent) and vegetables (25 per cent) into their cooking.
To meet increasing demand, the company continues to expand its headcount and facilities. It is opening its third distribution centre, The Orchard, in Derby this spring, quickly following the opening of The Beehive in Nuneaton in 2020.
HelloFresh employed an extra 500 people in 2021, increasing its UK headcount to over 2,000.
UK CEO, Laurent Guillemain, said: "our strong growth figures in the UK show that the British public truly believe in our vision of changing the way we eat forever.
"It was always going to be challenging to deliver on the growth we achieved in 2020, which was a year of lockdowns, but it's great to see that we have surpassed all expectations.
"These figures would not be possible without the hard work and commitment of our team members, nor without the investments we're making in the UK in terms of talent, infrastructure and sustainability.
"As we continue to grow, and more people begin to discover HelloFresh, I look forward to seeing what we achieve in 2022 and beyond."
With regard to sustainability, the company noted that choosing sustainable options is becoming an increasing priority for UK consumers.
In 2021, HelloFresh became the first Red Tractor licensee within the recipe-box subscription sector, meaning that its meal kits have met rigorous animal welfare and farming standards.
The company was also awarded B Corporation certification last year.
It said its sustainability journey would continue into 2022, including plans to further reduce packaging within deliveries.
"To continue to cater for changing cooking trends and meet UK demand for convenient and healthy meal solutions, HelloFresh is committed to expanding choice, flexibility and service levels for its customers," the company said, adding that it also plans to grow its second brand Green Chef, which launched in the UK in 2021.