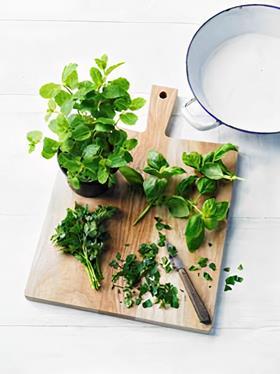 Waitrose has reported a surge in the popularity of fresh herbs.
The supermarket says both pre-cut and potted options have seen an uplift, with sales up 16 per cent year on year as shoppers look to add flavour to their cooking and prepare meals from home more during the Covid crisis.
April saw strong sales for potted herbs, up 20 per cent, as shoppers looked to grow their own and spend time in the garden as a result of the warm weather and travel restrictions. Potted coriander, which can be maintained and grown from a garden or window box, saw the most significant growth, with a sales increase of 52 per cent compared to last year.
Over the last three months cut herbs have also seen an increase, up 11 per cent against the same period last year. Basil saw the largest growth, with sales up 40 per cent, followed by 'love it or hate it' herb coriander, which posted increased sales of 35 per cent.
The growing demand for fresh and potted herbs led to Waitrose launching Potted Lemon Basil into over 200 stores, offering customers a fragrant and citrussy basil plant ideal for lighter summer dishes, tossed in salads or infused in ice water.
The ability to use or even grow fresh herbs has become significantly more popular in recent months, according to Waitrose, which said that where previously using the longer-lasting dried herbs may have been preferable, the rise in more scratch cooking has seen a resurgence in fresh.
On Waitrose.com, searches for 'fresh herbs' over the last three months were up 162 per cent compared to last year and 'potted fresh herbs' up 175 per cent.
The retailer's herb buyer Jane Shaw said: "It is great to see so many customers embracing and cooking with fresh herbs. There is such a wide variety available which can enhance and transform home cooking, from the woody and punchy flavours of rosemary and sage to the more fragrant and delicate basil and mint. Such is the growing demand, that we are delighted to announce we are adding 11 new cut herbs including edible flowers, sorrel and lovage to our selection."