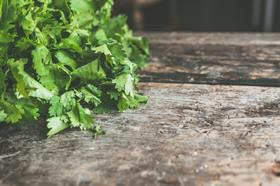 The recent heatwave will naturally have affected different crops in different ways, with berries enjoying high temperatures and products such as lettuce often struggling in the heat. One category that falls in the latter camp is herbs, with the availability of various products tightening considerably due to the heatwaves in the UK and Europe – major producing countries Spain, Germany, France and Belgium have all been impacted by the heat.
"Spikes in temperature cause bolting and then stunting, so quality and availability suffer," explains the chair of British Herbs, Mathew Prestwich. "This has been the case Europe-wide, so the effects have been felt. Gone are the days when it was possible to simply switch to growers in Europe, North Africa or other parts of the world due to a short-term problem."
Fortunately for UK producers, the extreme heat in Britain appears to have been short-lived, with temperatures returning to normal levels after just a few days last week, but Prestwich says recent weather across Europe has "led to pressures on the industry as quality and availability can become a problem".
Coriander in particular has been affected, he reports, with volumes also tightening in herbs that flower under stress such as thyme and lemon thyme. Craig Thomas, the commercial manager of herb breeder CN Seeds, adds that there's been a shortage of chervil, from Germany in particular. The overall impact on usage and sales has been both positive and negative as demand has risen and supply has tightened in several products.
Prestwich, who is also managing director of R&G Fresh Herbs, says there has been an introduction of more 'ingredient' lines lately, such as curry leaf and lime leaf, both of which have become more widely available, particularly in recipe-based mixed packs. "Mixed packs can be popular if seasonal as they provide a one-stop shop for the consumer," he says. "Consumers continue to be very heavily recipe-led."
Other fresh herbs that are proving popular at retail include parsley, Thai basil, tarragon and thyme, says Prestwich, while Thomas reports that fresh-cut coriander sales continue to grow despite the difficult recent growing conditions, driven by a change in consumer tastes and higher consumption of ethnic food. "There's a lot of talk about alternative products such as fresh oregano, lemon balm and some of the more niche herbs, but in terms of mainstay varieties it's still very much the same – there hasn't been a lot of change," he says. "Basil and coriander are probably the biggest pot crops in the UK, followed by parsley. It's quite consistent outside of seasonal uplifts like Easter and Christmas."
The seed supplier continues to enjoy strong sales growth in its Cruiser coriander, which Thomas says is a "slow-bolting, dark green, high-yielding variety that adapts well to pot growing and fresh-cut bunching". The company also now has sales exclusivity in Europe for three new mildew-resistant sweet basil varieties bred by Van Drunen Specialty Seeds in the US. The loftily named Devotion, Obsession and Passion have already been tested for mildew resistance in the States and are being trialled by European growers for the first time this season.
"We're just in the first year of pre-commercial trials with growers to prove their worth, but it's very exciting for us to have mildew-resistant basils," Thomas says. "It's been a challenge for outdoor herb growers to get really strong varieties with big yields. Mildew has been the biggest problem, especially in basil, and creating varieties with strong resistance to the disease is important."
So far, the varieties, which are available from CN Seeds across Europe, have enjoyed good uptake in Spain and Belgium. They are better suited to open-field production, according to Thomas, but through its partnership with Van Drunen, CN Seeds hopes to develop other mildew-resistant basil varieties for indoor pot production in future.
With diseases, pests, weeds, prices and the weather all posing challenges for producers, a reduction in the number of pesticides available to growers is a continual concern for producers of herbs, and indeed other crops. In light of this, vertical farming would appear to offer potential, and Thomas notes that herbs, particularly basil, lend themselves well to indoor, hydroponic production.
Whether vertical production will transform the herb market, Thomas is not so sure, noting that the conventional pot market is "very mature, stable and strong, with longstanding producers". "We have seen huge amounts of money and time invested into R&D for vertical production, however we still feel that there is more development needed to compete directly with the conventional market," he says. "Are they going to transform a whole sector? Probably not. Are they going to take some sales from traditional herb producers? Probably yes."
Prestwich adds that he thinks the vertical farming model will be a "very important and useful addition to UK herb production – so long as the product isn't compromised, and the consumer embraces the concept".