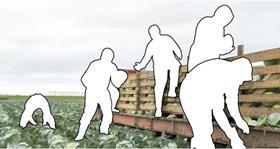 Growers are warning of supply shortages if more crops are left unpicked or unable to be packaged and processed as the UK seasonal labour crisis worsens.
Competition for workers is so high, according toFarmers Guardian,that some firms have raised hourly wages by 5 per cent and companies such as West Sussex vegetable specialist Barfoots has promised a £600 bonus if workers stay for 12 weeks this summer.
Barfoots MD Julian Marks told the FPJ last week that the shortage of labour meant some of this season's courgette crop was wasted. Meanwhile, he added that the UK asparagus season was the most difficult on record due to the combination of late frosts and very high labour costs.
"Our business is very labour intensive," Marks said. "The present labour issue is due to the perfect storm of Brexit, EU returnees choosing to stay at home or go to countries where they are made to feel more welcome, the Covid factor, the fact the seasonal worker programme was late, quarantine issues, and the lifting of lockdown and the massive demand for seasonal labour from all UK sectors – hospitality in particular."
But Ali Capper, NFU horticulture and potatoes board chair, said wage rises were not the solution. 'We need an immigration policy that is fit for purpose and while our sector is lucky in that we have the permit scheme, it is not bringing us enough people and I can only see the EU picture getting worse,' she toldFarmers Guardian, calling on the government to make the Seasonal Agricultural Workers pilot scheme permanent to instil grower confidence.
'Anxiety levels are at the highest I have ever known them, and the lack of labour could decimate our industry as growers will not plan to produce the same volumes in the future to mitigate this risk.'
The British Growers Association said margins were already being squeezed, with employers investing in 'very necessary and important' regulations to keep staff safe from the virus.
The industry is calling on the government to relax the restrictions on foreign workers, with one option a short-term visa which would allow EU workers to be employed in the UK for a set period of time.
Speaking to Farmers Guardian at the Great Yorkshire Show last week (14 July), Defra Secretary George Eustice said: 'We are discussing across the Government at the moment what we might do next year and whether there should be a further extension of the SAWS pilot or whether indeed we should try to do a more permanent scheme but we are not in a position yet to make any final decisions.'