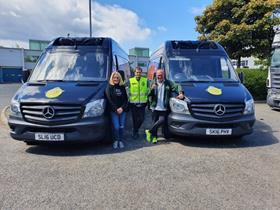 A family-run fruit and vegetable wholesaler has launched a delivery service offering an expanded range of products to homes across Scotland's Central Belt.
The majority of Charles Stamper Fruit & Veg's customers, which include bars, restaurants, hotels and schools, closed their doors when the government lockdown came into force on 23March, creating significant pressure on its cash flow.
In response, the Edinburgh business immediately decided to diversify into home delivery using its fleet of refrigerated vans. It set up a dedicated website to take orders and added household essentials to its product range, including tinned goods, condiments and kitchen roll.
The shift to home delivery was supported by the Bank of Scotland, which provided a six-figure loan through the government's Coronavirus Business Interruption Loan Scheme (CBILS), helping the wholesaler pay new suppliers and cover costs while its catering customers are unable to pay for orders completed before Scotland entered lockdown.
The wholesaler's managing director Louise Stamper said:"We were watching television as a family when the stay-at-home order was announced and decided almost immediately to launch a home-delivery service.
"Such a radical change seemed daunting at first. But, thanks to a massive team effort, we've now completed thousands of home orders. We've been blown away by the demand and motivated by all the positive feedback we've received on social media.
"Crucially, our new retail customers pay for goods ahead of delivery. It's a departure from the traditional business model of a wholesaler that gives us steady income until our catering clients reopen. The support from Bank of Scotland has been invaluable as we've made that change."
Daniel Burns, relationship manager at Bank of Scotland, added:"Charles Stamper Fruit & Veg is a prime example of a well-established, family-run business that has quickly adapted its services during unprecedented times.
"The business' focus on quality put it in a good position as home delivery became a preferred option for Scottish consumers keen to support local firms impacted by Covid-19. The loan we've provided will help Louise and the team take advantage of this demand and keep the business going until its catering customers are able to open their doors again."