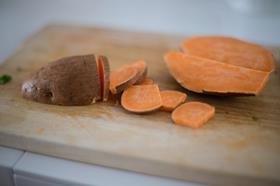 The UK is the third-largest receiver of Honduran sweet potato exports, and supply is growing. Is the UK seen as a key part of the Honduran sweet potato strategy?
Ian Crispin:Very much so, and has been for a number of years now. The UK is a key market for imports of sweet potatoes from around the globe, having led the way in Europe for increasing consumption of the product over the last 20 years, and Honduras has been a big part of that success. We have been there from the very start with our partner Monty Farms.
With the US such a dominant player in the sweet potato market, what can Honduran produce offer alongside it?
IC:We offer a different variety, with different characteristics, and also an alternative source when the US face shortages, such as they may do this season after Hurricane Florence.
What varieties are you exporting and why are they suited to UK or European markets?
IC:We are 100 per cent the Evangeline variety. Compared to the US Covington, which is stored and fully cured, and therefore offers little wet matter inside the tuber, the Evangeline is only semi-cured as it is freshly harvested throughout the year. This means a lot higher percentage of wet matter inside the potato, which makes for a better taste, easier peeling and deeper orange flesh. This has proved particularly successful in the catering and wholesale sectors, with chefs and others recognising the benefits of Evangeline over the US Covington offer.
What investments and supply chain developments are you making to grow your exports?
IC:At this stage there is little supply chain development required from Honduras, as we have an efficient farm and packhouse with all the latest certifications, and a relatively short journey time of two weeks on the water, so we are currently ticking all the boxes.
In terms of investment by the farm, while Honduras can supply fresh harvest product for around ten months of the year, we're looking to complete the 12-month supply with Evangeline production in China through October, November and December. We've had a couple of commercial seasons so far from this source, and it has been a great success to date.
Potato sales were in decline, before more recently enjoying a bit of a turnaround. What is the outlook for the sweet potato market in the UK?
IC:Sweet potato has probably had a hand in the declining sales of standard potatoes, offering an alternative that is much more beneficial for your health. Consumption is still on the increase in the UK, although the curve has slowed a little from the sharp rise we saw in the past five to ten years, so I don't see a demand issue in the near future.