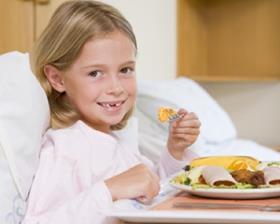 A new report has slammed the state of food in London's hospitals, claiming half are failing to meet basic food standards and nearly two-thirds are not cooking fresh food.
The report, prepared by the Campaign for Better Hospital Food, examined the state of food in the capital's hospitals as a test case for the rest of the country. Its headline finding was that many hospitals are struggling to serve and sell freshly prepared, healthy and ethically sourced food for patients, staff and visitors.
The study also found that around a fifth of hospitals (17 per cent) serve food to patients in plastic ready meal trays, a fifth (20 per cent) do not provide patients with a hot meal if they miss mealtimes, and over a quarter (27 per cent) do not ask patients about their food experiences, which might otherwise provide the incentive to improve food standards.
There was some better news with the finding that two-thirds of hospitals had taken six or more positive actions to improve the food experience for their patients.
Jo Ralling, campaign manager at the Jamie Oliver Food Foundation, said the report showed that legislation could be necessary following the findings. "We've had legal food standards for schools and prisons for a decade,' she pointed out. 'There's no reason we can't extend these same protections to hospitals. Let's all work together to get NHS patients and staff the good healthy food they deserve."
New Bake Off presenter and hospital food champion Prue Leith, who also wrote the foreword to the research report, added: "Hospital food has a deservedly poor reputation and NHS patients and staff deserve better. This report shows that at the moment most hospitals are not serving fresh, tasty and wholesome food so we must have legal standards, like those already in place for school food and prison food, to make sure good food is a priority in our hospitals."