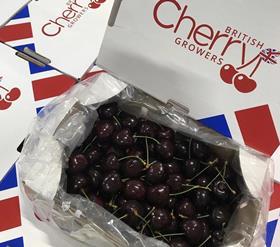 The UK's Norton Folgate sees "huge" and "exciting" opportunities for British cherries in Asia following a successful season in Hong Kong, Singapore and Kuala Lumpur.
This year marked the Kent-based stonefruit specialist's first commercial deal in Hong Kong after trials in previous years, and its second year of small export volumes to the two other South-East Asian markets.
The British cherries, which were airfreighted and marketed in British Cherry Growers branded Union Jack boxes in June/July, sold very well in all three areas in spite of stiff competition from North American as well as Turkish product, says Dan Masters who heads up Norton Folgate's procurement team and cherry exports.
"It's a different offering in a market flooded by British Columbian and Washington State product – and consumers went for it. They liked the Union Jack branding," he says.
"It would take many, many years before we could get anywhere near the sort of volume that North America ships to Asia, and realistically that will never happen, but there is a niche market that seem to like the UK product/branding, and will comfortably be able to take the volume that we can offer."
Norton Folgate supplied Hong Kong retailers Wellcome and Yata, as well as some Hong Kong wholesale companies, with British-grown Kordia and Regina cherry varieties via a Chinese fruit importer-packer.
In Singapore and Kuala Lumpur, a long-standing ally of Norton Folgate's acted as agent. "It's important for us to have boots on the ground, especially in these early years while the product finds its feet in these tricky markets" Masters explains.
The export deal was not without its challenges, however: as Norton Folgate's peak volumes got under way, Hong Kong went into its second lockdown due to the coronavirus pandemic.
"We'd done a number of shipments to Hong Kong, then, just as two large airfreight consignments arrived, Hong Kong went into lockdown. It wasn't ideal," Masters reveals. "That put the kibosh on the orders for the remainder of the season."
Nevertheless, Masters describes the Hong Kong deal as "very positive for a first commercial season", and next year plans to export "two to three-fold" what was exported in 2020.
"We have some things to work on and improve over the coming years, such as how we grow and harvest the fruit to improve firmness and brix levels, that sort of thing, which can be achieved through growing/harvest techniques as well as varietal changes," says Masters. "But we definitely see opportunities for growth in Asia – huge, exciting opportunities."
Masters explains that, although UK cherries are not currently permitted in many Asian countries, such as China, Vietnam and Thailand, for phytosanitary reasons or simply because British cherries are not on the approved import list, there is huge scope in existing markets.
"Singapore and Kuala Lumpur are very exciting from a value point of view. And Hong Kong is very exciting from a volume point of view," he says.
"The challenge we have, is that consumers in Asia are used to receiving a Washington/British Columbia type of cherry – firm, sweet, red. So, we have some work we need to do in terms of growing and sending the right piece of fruit which meets their expectations."

Enjoyed this free article from Fresh Produce Journal and its team of editors? Don't miss out on even more in-depth analysis, plus all the latest news from the fresh produce business. Subscribe now to theFresh Produce Journal.