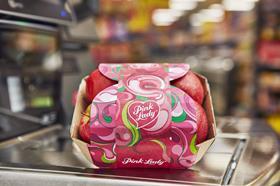 Iceland has become the first UK supermarket to launch plastic-free packaging for its Pink Lady apples, as it continues to reduce its plastic packaging footprint.

The supermarket has today (12 April) announced that paperboard packaging will replace the plastic format, with the new packs being rolled-out across all its stores in the UK.

The switch in packaging will save Iceland seven tonnes of plastic per year, adding to its total of 3,794 tonnes reported for 2019 that have been removed from its own-label packaging since the start of 2018.

Iceland will monitor customer response to the new packaging across the country, as it continues to gather insight into how consumers respond to plastic free packaging alternatives.

This is the latest in a series of industry leading trials which have seen the retailer lead the way in the fight against plastic. In October 2020, Iceland launched plastic-free packaging trials for Button mushrooms and Baby new potatoes which have performed well, with customers providing positive feedback. As a result, Iceland will be rolling out further trials across addional mushroom and potato products during April and May.

Richard Walker, managing director of Iceland, said: "We are continuing to innovate our packaging as we continue on our journey to completely remove plastic from our own-label ranges by the end of 2023. We have worked hard to ensure this new paperboard packaging for our Pink Lady apples does not compromise the quality of the product whilst helping to reduce our plastic footprint.

"It's great to see positive customer feedback to our plastic-free packaging trials with produce such as mushrooms and potatoes. Every successful trial continues to support the permanent rollout of plastic-free alternatives and takes us another step towards meeting our commitment."

Iceland is recognised as the UK's leader in frozen food and operates nearly 1,000 stores across the country, together with a multi-award-winning online shopping service. It represents 2.5 per cent of the UK grocery market.

Iceland has won multiple awards for the quality of its food and service. Recent honours including being named Best Online Retailer and Best Frozen Food Retailer at the Retail Industry Awards 2018, Community Retailer of the Year at the Retail Week Awards 2018, Online Retailer of the Year at the IGD Awards 2017, and Online Supermarket of the Year at the Grocer Gold Awards 2017.
Iceland's online shopping service was also named the UK's best in the 2016, 2017 and 2018 Which? supermarket surveys. Iceland has ranked as one of the UK's Best Big Companies to Work For in each of the last 12 years and was number one in both 2012 and 2014. Iceland was also named best UK supermarket for customer service in the 2018 and 2019 UK Customer Satisfaction Index.