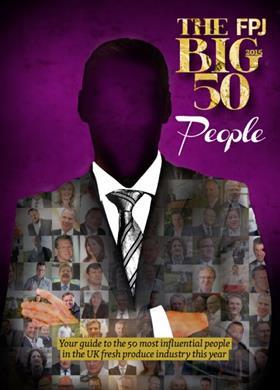 The FPJ Big 50 People has listed the 50 most influential people in the fresh produce business according to their activities and actions over the past 12 months.
The list, which is not ranked, has been compiled by selecting 10 subcategories from the sector, and shortlisting the most newsworthy, or influential, people within those categories. The shortlist was created by the FPJ editorial team, along with support and advice from industry insiders.
Primarily focused on those active within the UK market in categories ranging from suppliers to policymakers, the 'international' section highlighted influential figures across the global fresh produce business.
'In putting the list together, we decided it would be unfair and, more importantly, irrelevant to pit wholesalers against growers, politicians against supermarkets, suppliers against industry bodies. That is why the FPJ Big 50 People is not ranked,' said FPJ Big 50 People editor, Nina Pullman.
'Instead, we selected 10 categories from the sector and shortlisted the key people within their specialities, before choosing those who have been the most newsworthy, and had the most impact on their business or the wider sector, during the last year.
'The result is nonetheless a fantastic record of who is driving the industry forward across the full range of subcategories and related sectors. Inside you will find leaders of countries alongside English top-fruit growers, influential chefs alongside foodservice's finest, and successful retail suppliers next to forward-thinking wholesalers.'
The FPJ Big 50 People 2015:
Suppliers
Angus Armstrong, Greenvale
Ronnie Bartlett, Albert Bartlett
Ian Craig, Fresca Group
Neil Fraser, Produce World
Sevki Isin, Dole Europe
Steve Maxwell, Worldwide Fruit
Adam Olins, BerryWorld Group
Mark Player, Total Worldfresh
Neil Sanderson, Florette
John Shropshire, G's Fresh
Growers
Chris Chinn, Cobrey Farms
Clive & Ross Goatham, AC Goatham & Son
David Langmead, Langmead Group
Paul Mansfield, FW Mansfield & Son
Greville Richards, Southern England Farms
Wholesale
Johnathan Kershaw, Bradford Wholesale Market Tenants Association/Burbank Produce
Jan Lloyd, Covent Garden Market Authority
Gary Marshall, Covent Garden Tenants Association/Bevington Salads
Jason Tanner, Premier Fruits
Mark Tate, Birmingham Wholesale Market Tenants Association/George Perry
Supermarkets
Matthew Barnes, Aldi
Dave Lewis & Kris Comerford, Tesco
Mike Luck, Sainsbury's
David Potts, Morrisons
Jonathan Tremayne, IPL
Foodservice
Mike Attwood, EIPC
David Burns, Fresh Direct Group
Stephen Oswald, Bidvest Fresh
Tony Reynolds, Reynolds
Industry bodies
Adrian Barlow, English Apples & Pears
Nigel Jenney, Fresh Produce Consortium Peter Melchett, Soil Association
Laurence Olins, British Summer Fruits
Jack Ward, British Growers Association
Politics andpolicymakers
Phil Hogan, European commissioner for agriculture
Jane King & Peter Kendall, AHDB
Guy Poskitt, NFU
Christine Tacon, Groceries Code Adjudicator
Liz Truss, Defra
Science and R&D
Ian Boyd, chief scientific adviser to Defra
Susan Jebb, health policy adviser
Bill Parker, HDC
Chefs and Media
Hugh Fearnley-Whittingstall
Jamie Oliver
Jay Rayner
Gregg Wallace
International
Hein Deprez, Univeg
David McCann, Fyffes
José Luis Cutrale, Sucocitrico Cutrale
Vladimir Putin, president of Russia
To order extra copies of the FPJ Big 50 People please contact lucy@fpj.co.uk.