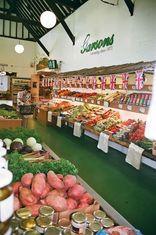 While multiples would appear to have it all their own way, with an estimated 85 per cent of retail fruit and vegetable sales, there are still pockets of independent resistance giving every indication that the sector is alive and well.
Accurate figures have always been hard to come by. In the 1960s, it was estimated that there could be as many as 40,000 outlets, including street markets, although many owner-occupiers working from short leases were hard to trace.
Today there are probably only around 3,000, and less on the high street because of ever-increasing rents and service charges. But to some degree this has been compensated with the arrival of farmers' markets selling local food, and the expansion of their shops operating year round rather than only coming to life in the spring and summer.
In fact my own area, over a five-mile radius in the west of Surrey, reflects these changes.
The presence of several Tesco, Sainsbury's, Waitrose, Marks & Spencer, Co-operative and more recently Lidl stores took its final toll in Cobham - now best known as the site of Chelsea FC's training ground - when the last of three greengrocers and fruiterers finally departed a decade ago.
But now a farmers' market arrives once a month as the village is part of a local circuit which attracts growers from as far afield as Kent and Sussex. Subsequently, on a more regular basis, the enterprising Hennessy family, which has a long tradition of retailing, saw a gap in the market and convinced several garden centre operators that their car parks could be put to good use.
Buying in Western International, there is a large marquee courtesy of Squires Garden Centre, with customers arriving from a wide area attracted by quality, highly competitive prices and enjoying the hustle and bustle interlaced with helpful advice and a joke or two.
Another example has been the expansion of Thompson Bros of Garsons Farm at West End near Esher. Once only selling traditional Thames Valley crops such as salads and brassicas from its farm shop as a side line, the metamorphosis reflects the vast changes which have reshaped British horticulture. Vegetable growing has been replaced by one of the largest pick-your-own sites in the country, there is a flourishing garden centre and a produce department integrated with a fine foods shop all housed in the traditional barn which once served as a packing shed.
It has even been likened by local customers as a 'Harrods on the farm', according to Nigel Chandler, who was appointed manager 17 years ago, bringing a wealth of produce knowledge after a previous career with Key Markets and running his own shop in Kingston-upon-Thames. Garsons has also been a recipient of a prestigious Re:fresh award.
The Thompson family knew the wholesale markets well, once having its own stands in Borough, but as time and travel became more costly the decision was taken to find a single supplier. The cornucopia which greets visitors every day has been provided by wholesale distributors Hilliard Bros (Ewell) since 1996.
Lorries arrive at the farm virtually every day at seven o'clock, with produce not just from New Covent Garden Market, but from across the Channel through Rungis, in total accounting for up to 120 different types of fruit and vegetables throughout the year.
As is to be expected, consumers now regard exotics and pre-packed salads as commonplace, while they were almost unknown when Garsons moved into retailing.
But while the shop's range has grown out of all recognition, with an additional reputation for the full range of dairy products, butchery and delicatessen, produce still equates to at least half of the offer.
Chandler remains true to his belief that successful produce marketing is an art. Apart from having to be constantly aware of changes in demand due to weather, the shop strives to create a sense of theatre with not just special seasonal offers, but linking associated products together.
Meanwhile in nearby Bookham village there is a shop of which any retailer would be proud. There's no point in trying to catch Ray Layton early, for he is well away before the crack of dawn on his daily visit to New Covent Garden Market.
A greengrocer and fruiterer for most of his life, he and wife Debbie moved premises from Putney to Bookham 13 years ago onto this rural high street, alive with independents, which still has the charm of the 1950s.
There is no wasted footage along the shop's walls and displays overflow outside. Space is at a premium, for today he estimates that he is stocking twice as many lines compared to when he first came into the business. Fruit like avocados, kiwifruit and pineapples have long become staples for the consumer. Now he is being asked for far more fresh herbs and the many types of lettuce, plus what have generically become known as "little leaves".
Despite having to combat increased competition, he still believes in the value of the personal touch, whether it is buying on the market and knowing the names of and regularly meeting the best English fruit growers, or even ensuring his own regular customers get the help and advice they still value. -