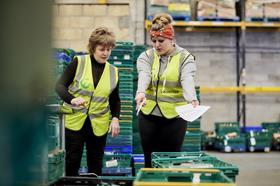 The majority of UK charities are being moderately or severely affected by the cost-of-living crisis while seeing an increase in demand for their services.
These were the key findings from a major new survey by FareShare of more than1,200charities and community groups, which rely on food from the organisation to feed more than 120,000 people at risk of hunger.
In the survey, 90 per cent of the organisations said their services had been affected in some way by the cost-of-living crisis, with 71 per cent saying they've been "moderately" or "severely" impacted.
More than 75 per cent said they'd seen an increase in demand for their services over the past year.
Food, fuel, clothes, travel and household bills have all been rising steadily in recent months, with inflation now running at 6.2 per cent, its highest level for 30 years. From next month, national insurance will also rise by 1.25percentage points.
Nearlyseven million people are said to be going hungry in the UK, including two million children ­– an increase of two million since the pandemic.Researchsuggests that by next month, almost half of all children will be living in families who'll be unable to meet the cost of some basic necessities.
For example, Alison Trevellion, a single mum in Aylesham, Kent,said she couldn't manage every week without the help of a local charity.
"I work on the weekends, but I don't earn a huge amount and without the help of Bechange, I'd really struggle to put food on the table for my daughter and me,' she explained. 'I'm working really hard to make ends meet but it's so difficult with bills and groceries all shooting up almost overnight."
Many of the organistaions serviced by FareShare also provide vital support to help with issues such as unemployment or low income, homelessness, family break up and abuse, mental health issues, and addiction.
In terms of the reasons given by the charities as to why people are accessing their services,65 per cent said it is because of the increases in the cost of food; 52 per cent said it is because of rising energy bills;63 per cent said it is because of changes in universal credit; 60 per cent gave unemployment as the reason; and 54 per cent said low pay. Health is also a major factor: 56 per cent mental health issues, and 36 per cent physical health problems.
FareShare UK is launching a new campaign to highlight the impact of the cost-of-living crisis on families across the UK.#RunningonEmptywill use powerful images and personal testimony to highlight the difficult choices people are having to make, and the charity isappealing for more donations, volunteers and food, to help people at risk of hunger in Britain.
FareShare CEO Lindsay Boswell said: "With predictions that inflation is set to rise yet further, the ongoing impact of the conflict in Ukraine, and expected tax rises, it is clear that many families – who faced furlough and uncertainty during the pandemic –are now experiencing added difficult hardship. Demand for our food is as high as it's ever been."