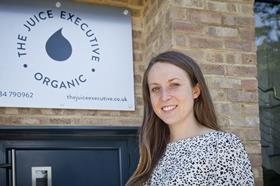 Cold-pressed juice supplier The Juice Executive has invested £1.1m in a new extension at its Chatham factory.
The company, which supplies leading organic retailers alongside hospitality and its own online brands, has completed work on a high-care juice manufacturing facility that it says will deliver five times more capacity.
Run by 29-year-old entrepreneur Alexandra Auger, the spend marks the second significant phase of family investment in the firm's seven-year history. Aguer explained that it gives the firm the opportunity to target new markets for its 100 different organic juices, as well as creating a dedicated allergen processing line for nut and plant-based milks.
The investment comes after a strong year of growth for the business, with own-brand sales up 100 per cent and wholesale revenue returning at record levels as the economy opens up again following lockdown.
"Sustainability is a massive driver for the markets we operate in, and the latest expansion has been completed with this firmly in mind," said Auger, who formed the business seven years ago from a stainless steel bench in her garage. "In addition to the much-needed capacity boost, we have spent a lot of time designing a manufacturing facility for the future with our 'Environmental, Social and Governance (ESG)' vision being to create a site that stands out now and in five, even ten years' time.
"We operate in the world of organic food production and sustainability is at its core, so it's important to build that into the bigger picture of our business and customers get to see that. It gives consumers reassurance that we are committed to reducing our carbon emissions and being part of a bigger movement to minimise any impact we have on the environment."
Juice Executive currently employs 27 staff and plans to create a further 10 jobs over the next two years. It has invested in heat recovery and efficient cooling, working with specialist contractors to ensure the heat generated from its refrigeration is used to reheat office and welfare areas. A new biodigester will turn 100 per cent of its food waste into a water bi-product, and electrical vehicle charging and green travel plans for all employees are being put in place.