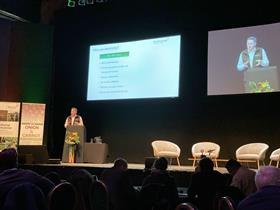 New technology is promising a radical approach to weed treatment by using electricity to "boil weeds inside out from the root upwards".
RootWave is hoping to pioneer the use of electricity as a sustainable and scalable organic alternative to herbicides and reduce the use of conventional chemicals. As electricity penetrates deep into the roots, the technology is said to be able to tackle any weed, including tough invasive species.
The company's commercial director Stephen Jelley told this week's Onion & Carrot Conference in Cambridge that handheld RootWave devices are already being used in parks, gardens and large estates, as well as on organic farms, but that trials are underway for commercial applications on fruit and vegetable farms.
Benefits of using electricity include the fact that the weed is killed almost instantaneously, according to Jelley. The system is also precise and only kills the plants it touches, is sustainable, residue-free, efficient and does not disturb the soil.
The next stage of RootWave's evolution is to integrate it onto machinery, with a tractor-mounted trial underway at Anthony Snell's soft-fruit farm in Herefordshire.
The manufacturer also hopes to integrate the technology into autonomous vehicles for even more efficient farming, Jelley said.