New PM replaces George Eustice with former international trade minister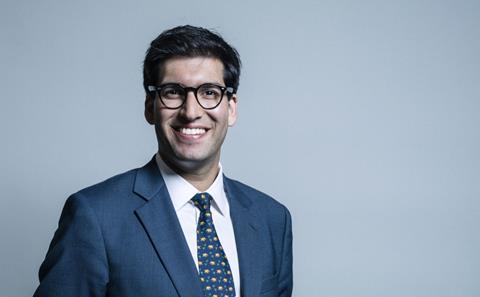 Ranil Jayawardena has been named as the new secretary of state at Defra following Prime Minister Liz Truss's first cabinet reshuffle.
Jayawardena, who backed Truss in the prime ministerial race, replaces Rishi Sunak supporter George Eustice at the department for food, farming and rural affairs. Eustice had served first as minister and then as secretary of state at Defra since 2015.
The 36-year-old, London-born Jayawardena was previously minister for international trade from May 2020 to September 2022. He has served as Conservative MP for North East Hampshire since 2015.
Before serving as a minister, Jayawardena was a member of the International Trade, Home Affairs, Procedure and Arms Export Controls Committees, and had been appointed by the speaker of the House of Commons to the Chairmens' Panel.
He was also made deputy chairman of the Conservative Party by the Prime Minister. Prior to his election to Parliament, he was a councillor, serving as deputy leader of the Borough of Basingstoke and Deane.
Jayawardena combined his service in local government with working for Lloyds Banking Group and is a freeman of the City of London. He also has commercial experience from the pharmaceutical, construction, transport and leisure sectors.
Of his new role, Jayawardena said: "It is a privilege to be appointed the secretary of state for Defra. From food security and backing British farmers, to water security and growing our rural economy, I know that there is much to do. It is so important to recognise where our food comes from.
"I recently met local farmers with the NFU, to discuss the government's support for British farming and the export growth ahead."