Minette Batters opens show in challenging year for industry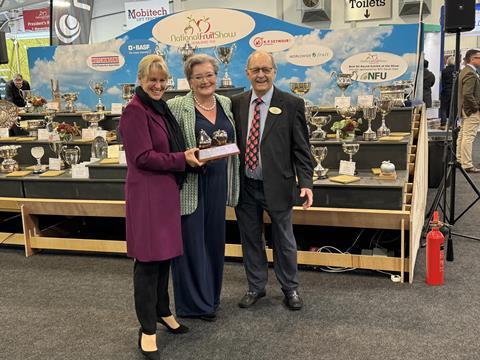 Jazz apples have added to their trophy cabinet by collecting the top prize at the National Fruit Show (NFS) for the second year running.
Announcing the winners of the fruit competitions at the event in Kent on Wednesday (1 November), outgoing show chair Sarah Calcutt noted that there were entries from growers at both ends of their careers, ranging from ages 21-90. It has been a challenging year on farm with the weather, she explained, but it has also been a good year for crop flavour.
The Best in Show went to Jazz apples grown by John Bray, while the best Bramley was won by Bardsley Horticulture. Best Cox went to Claygate Farm, Mallions Farm won Best Gala and AC Goatham picked up Best Braeburn. Best Pear went to Concorde, grown by Clive Baxter.
Calcutt is stepping down after this year's show to concentrate on her role as chief executive at City Harvest. "I have loved my 14 years in the chair," she said. "It's been an absolute honour in every way, my privilege to lead this organisation and I will treasure every moment. I leave it in safe hands with a good structure and an excellent team, fit for a strong future dong what it has always done best – shouting about the very best of the British fruit industry."
NFS also has a new president this year, with Catherine Paice replacing Teresa Wickham, while Sally Flanagan has become the first chief executive at organiser Marden Fruit Show Society.
This year's show was once again opened by NFU president Minette Batters, who is in her final few months in the role before stepping down from the union's hotseat in February. Describing the fruit industry as "a sector that I've come to feel really passionate about", Batters paid tribute to the work of British growers and indicated that the government needs to do more to support them. "One of my frustrations is I haven't quite got our political leaders feeling and caring as passionately about this sector as I do, because the opportunities here are enormous," she said.
Also at the show, Batters was presented with the Jon Jones Award, an annual prize for an individual who goes above and beyond for the industry.