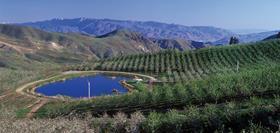 British fruit grower and supplier JO Sims saw turnover reach record levels this year despite "difficult trading conditions".
The Lincolnshire-based company's annual accounts revealed turnover for its fruit-trading segment grew 17 per cent to £73.8million, with gross margins rising by 6 per cent.
The company attributed careful management of foreign exchange, US orchard partnerships, as well as new plantings generating new revenue, for its strong financial year.
It underlined its orchard investments as being "particularly exciting for the business". Operating profits from fruit trading activity also rose from £3.5 million to £7.4m.
Overall operating profits fell however after the company's surplus valuation for their Borough Market property meant profits leaped up to £17m last year.
Fresh produce contributed 87 per cent of the group's turnover in 2018, while fruit growing totalled 12 per cent, with the remaining turnover from property.
A statement from the company said: 'The fruit trading business remains focused on delivering the highest quality of product to its customers and continues to invest in the development of both the supply chain and its employees for the future.
'The continued application of these core values of the business enabled further sales to be secured, contributing to the delivery of the strong performance of the business in 2018. Our export business continues to thrive with an exciting future.
'Results for the group's US orchard activities continue to be encouraging. Underlying performance of the orchard investments remains strong, as the market continues to return high prices.'
JO Sims was founded by Josiah Oliver Sims in London's Pudding Lane in 1896. The group also comprises Dippy Ridge, Stoney Street Developments, Winchester Square and Clink Street Properties.
Worldwide it farms over 1000 hectares of cherry, apple, peach, nectarine and apricot orchards, as well as being the UK's largest supplier of cranberries and wild blueberries.