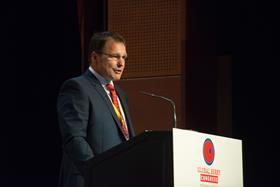 Former Tesco and M&S technical manager Johnathan Sutton has left Greenyard Fresh UK following a review at the business.
Sutton has been technical director at the Spalding-based fresh produce company for the past three years, before which he spent five years as technical manager for horticultural crops at M&S. He also had 13 years at Tesco in technical and sourcing roles, as well as over five years at Unilever.
Greenyard Fresh UK did not respond to direct requests for comment, but FPJ has seen a note circulated to staff explaining that the role of technical director in its current form would be ceasing to exist from 30 September.
"Since joining Greenyard from M&S in 2016 Johnathan has supported the Fresh, Flowers, Frozen & Group businesses using his extensive technical knowledge and wide network to drive forward the Technical agenda and strategy with the team that has been developed and improved over the past three years," the announcement said.
"There is now a clear focus on innovation, quality and technical standards that support the wider business functionality, which has been well received by our customers and suppliers.'
The note, which thanked Sutton for his work and success over five years, went on to praise the establishment of the covered innovation orchard at Myrtle Farm, which it said demonstrates the business commitment to innovation.
When contacted for comment about his future plans, Sutton told FPJ: "I'm looking to keep driving the fresh produce industry forward, driving out unnecessary costs and creating quality and innovative cultures for customers and growers. I am keen to develop business cultures to strive for continuous improvement, building on their existing strategies for growth.
"Sustainability needs to be embedded at all points of the supply chain, so there is a clear benefit for consumers and I am interested in developing/working in this space, using my global network to develop the strategy.
'I have also pushed the ethical agenda to be at the forefront of decision making, to drive out labour abuse in the supply chain and support vulnerable workers."