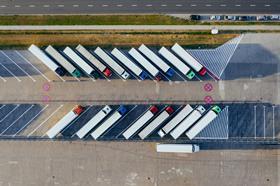 Kent County Council's ban on lorry parking in laybys across several areas of Kent contravenes the working rights of logistics workers, according to industry body Logistics UK.
In a letter to MP Rachel Maclean, parliamentary under secretary of stateat the Department for Transport(DfT), the business group expressed strong objections to the plan, which prevents lorry parking for more than 45 minutes at a timein laybys across several areas of Kent.
"Lorry drivers were deemed 'essential' workers during the pandemic, but it seems that this has been forgotten in this latest directive,' said Heidi Skinner, Logistics UK's policy manager for south.

'Logistics UK is urging theDfTto consider the welfare of these drivers – who work tirelessly to transport the goods and services the nation needs – and withdraw support forKCC's order banning HGV parking in laybys across several of Kent's boroughs and districts.
'Lorry drivers need access to parking spaces to rest – for both their welfare and to meet legally mandated rest periods from driving – but witha shortage of between 1,000 and 1,200 HGV parking spaces in Kent,it is unacceptable to prohibit the use of laybys for drivers without providing facilities elsewhere.'
The row comes at a sensitive time for the logistics industry, with the food haulage sector already struggling with a shortage of drivers.
"Theban was a temporary measure principally to ensure that HGVs were not parking in laybys while awaiting the correct paperwork to enter the EU,' Skinner added.

'Now, following the removal of theKent Access Permit (KAP) – which was successful in deterring hauliers entering Kent without the correct paperwork – there is no reason to keep the ban in place. Following the removal of the KAP and taking into consideration the lack of lorry parking facilities in Kent, it is unacceptable for KCC and DfT to continue this traffic order."
Managing director of logistics firm PML, Mike Parr, reiterated the concerns of Logistics UK, saying: 'With such a significant shortage of HGV parking facilities in Kent, these drivers have limited options at the moment. While we appreciate Kent County Council don't want to have lorries blocking laybys, surely more needs to be done to provide these drivers – who are the lifeline to maintaining essential food and drink as well as medical supplies to the UK – with a more fit-for-purpose parking solution?'

He added that PML was 'working on a plan' to help resolve the situation.
Ongoing consultation
A spokesperson for Kent County Council said the temporary ban had been introduced in January to 'help keep Kent moving during EU transition and protect local communities from the growing problem of illegal and anti-social lorry parking'.
She continued: 'Hauliers play a significant role in keeping goods flowing and the nation's supermarket shelves stocked, and drivers taking their short statutory breaks using dedicated lay-bys or parking areas do not face enforcement.
'As we approach the end of the initial period of this project we are grateful for all the feedback received directly, and via our ongoing consultation. All responses will be fully considered before a decision about the longer-term future of the lorry parking ban is reached. We're also discussing with DfT the long-term issue of lorry parking in Kent."