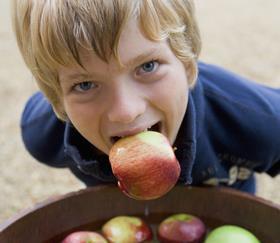 One in seven Irish children believe fruit and veg is not just bought at the supermarket, it originates there, a new survey on attitudes to fresh food has revealed.
This belief is most common among children aged five to six, the Irish Mirror reported, but it rises again among children over the age of 11, according to a survey commissioned by Irish food charity Grow it Yourself.
Another worrying finding was that up to 29 per cent of children are not eating enough fruit and veg.
Its founder Michael Kelly has set up an initiative to get primary school children to grow their own fresh produce. He is also calling on the Irish government to put food on the curriculum.
Only half of the families surveyed by Behaviour and Attitudes, which carried out the research, said they had grown food for themselves in the past year. And only one in eight children eat fruit and veg on a daily basis. This problem is particularly acute among children under the age of nine, the Irish Mirror reported.
Kelly was "thrilled" with the finding that 99 per cent of the children and parents surveyed think it is valuable for children to learn how to grow their food. But he found it worrying that so many children do not understand where their food comes from and are not eating enough fruit and veg, the Irish Mirror said.
"One of the most important steps our government could take to get children healthy is to put food on the curriculum," he told the paper."This research shows that parents want this to happen and understand how beneficial it would be."
Through its Sow and Grow campaign with smoothie brand innocent Grow it Yourself distributes seeds, pots, compost and growing guides to primary schools across Ireland. It is set to reach 45,000 children in 2017 and has taught 100,000 kids to grow their own vegetables in the classroom in the past five years.
This year the growing packs will include cress, baby carrots and runner beans, as well as details on how to cook the vegetables.