The complete spectrum of red-fleshed Kissabel apples will be available in the UK for the first time this season as British-grown Kissabel Rouge makes market debut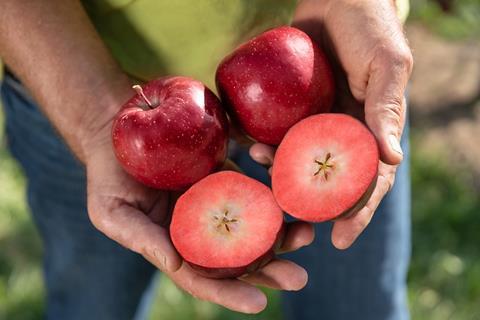 The full range of Kissabel apples – the red-flesh apple brand – will go on sale in the UK for the first time this autumn.
The move comes as the new red-skinned 'Rouge' Kissabel variety makes its UK-market debut this year thanks to Spalding-headquartered fruit grower-importer-distributor Worldwide Fruit whose UK producers will harvest their first commercial crop this season.
The British-grown Kissabel Rouge will join European-produced Kissabel yellow- and orange-skinned apples, supplied by distributor Greenyard, on UK supermarket shelves over the coming weeks.
"In the United Kingdom, the fruit's finish appears to be very good," said Hannah McIlfatrick, sales manager of Worldwide Fruit. "And, provided water supplies do not fail, the size profile seems to be much improved compared to last year. Growers have put a great deal of time and effort into the management of tree loads and crowns, and this should ensure good sizes and internal colour and an outstanding Brix level."
Europe's 2022 Kissabel season started two weeks ahead of schedule, according to the brand's marketers Ifored Group, in which Worldwide Fruit and Greenyard are partners.
Ifored's French growers, Mesfruits and Blue Whale, and Switzerland's Fenaco were the first to start picking from late August. Harvesting will begin in Germany (Red Apple Germany Consortium) and Italy (Melinda, Rivoira and VIP) in October.
European Kissabel growers forecast good volumes, fruit size, colour and quality for the 2022 season, and expect demand to exceed supply.
Promotional activities will peak in October, around Halloween, especially for red-skin and red-flesh apples in several countries.
However, the various partners are planning marketing activities throughout the range's sales window: from tasting to the use of branded packs for B2B, and POS materials (roll ups, displays, etc.) to inform consumers about the special characteristics of these "red inside" apples, Ifored said.
Kissabel apples are grown in 14 countries on five continents and provide an assortment of red-flesh apples, characterised by different skin and flesh colours, flavours and harvesting times.
The brand is marketed by Ifored Group, which comprises Alliance, Mesfruits, Gerfruit and Blue Whale in France; Greenyard and Worldwide Fruit in the UK; Fenaco in Switzerland; La Trentina, Melinda, Rivoira, VI.P and VOG in Italy; Nufri in Spain; Elbe-Obst, ELO, Landgard, MaBo, MAL, OGM, VEOS, VOG and WOG in Germany; Mono Azul in Argentina; Unifrutti Traders in Chile; Dutoit in South Africa; Yummy Fruit Company in New Zealand; Montague Fresh in Australia; and Next Big Thing in USA and Canada.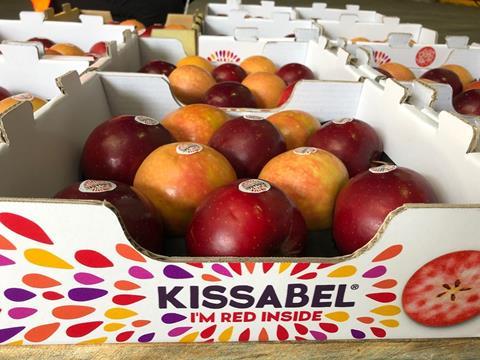 Kissabel, commercially launched in 2017, is the product of more than two decades' varietal research conducted by French breeder IFO.