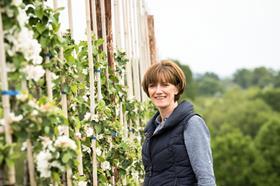 An independent report commissioned by the NFU concludes that unless growers see more sustainable farmgate prices they may stop trading or consider relocating abroad.

UK growers have seen labour costs increase by 34 per cent since 2016, according to the new report published this week. Alongside the long-term labour challenges British fruit, veg and flower farmers are facing, the viability of British horticultural businesses could be impacted, it said.
While new varieties, new growing systems, mechanisation and automation have delivered productivity gains for crops such as soft fruit, top fruit, vining peas and potatoes, many horticultural crops rely on a manual labour workforce and are particularly exposed to high wage cost inflation, the report found.

NFU horticulture board chairman Ali Capper said: "Fruit and veg growers are seeing labour costs continue to rise sharply, at a time when margins are tighter than ever. Labour costs account for 40-70 per cent of business turnover and ever-increasing costs mean some growers may no longer see their business as viable in the UK. Particularly when coupled with ongoing recruitment challenges, many businesses may simply become unviable and larger businesses could consider opportunities to relocate abroad.
"If nothing is done, we may begin to lose a thriving domestic industry that is incredibly valuable to the nation, contributing more than £3.8 billion to the economy. This would simply see more imports of fresh produce to replace that lost production,' she continued.
'At a time when we should be eating more fruit and veg as a nation, we need to be looking at the supply chain and wider government policy to ensure British horticultural businesses can invest and expand, not scale back because of rising wage costs. Brexit and Covid-19 have highlighted the importance of local, fresh, secure supply chains and we should support the expansion of British horticultural production.'
Growers recognise and support the importance of the National Living Wage - which has increased from £6.50 in 2016 to £8.72, she said, but fairer returns from the supply chain are needed to ensure businesses are sustainable and can manage these increased costs.
'As this report highlights, cost rises of this magnitude simply cannot be borne by growers alone," Capper added.
The report concludes that, for a number of high labour crops, a farmgate price increase of between 9 per cent and 19 per cent to the farm business would be required to offset the increased costs associated with wage rises from 2016 to 2020.
The governments expansion of the Seasonal Workers Pilot Scheme to 30,000 visas for 2021 was announced after the conclusion of this report, so is not considered. Labour costs for businesses tend to be the same for both UK and non-UK labour, the NFU said.