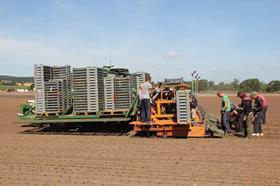 The successful start to a nation-wide recruitment drive for UK horticulture will harvest crops in April and May, but they could come at "considerable extra cost".
European travel restrictions in the wake of the coronavirus pandemic meant growers were facing a huge shortfall in available labour to pick British crops from now up to autumn.
Yet a massive recruitment drive from industry firms such as Concordia, HOPS, Pro-Force and G's, has seen horticulture business able to fill labour needs for the time being, with a mixture of EU labour and a wave of new British entrants into the industry.
Jan-Willem Naerebout, founder of recruitment business Agri-HR, said: "I heard on the Beanstalk.Global webinar that they have already had more than 26,000 applicants and have filled requirements of April and May already.
"Credit to those involved to have turned this large recruitment exercise around so quickly and successfully."
Chairman of British Summer Fruits, Nick Marston was one of the first to raise the alarm, urging the government to classify food chain employees as essential in March.
"The response to the call has been overwhelming. There have been large numbers of inquiries, farms have been employing people and some proportion of them will be from home. There are also the workers who were already here, and growers have had to fly people in early at a cost."
Marston warned that the hastily assembled labour force to pick British crops will drive up the price of production however, not least because of social distancing measures.
"There is an overwhelming view that we will harvest all the crops but it will be at considerable extra cost. Bringing people in early, who are less trained, and with social distancing measures you're having to make a number of extra journeys transporting people."
Naerebout says recruiters like his own business are still able to take on seasonal workers despite current travel restrictions.
"AGRI-HR focuses on particularly Bulgarian recruitment and farming and fresh produce customers in the UK and Europe. Although Bulgaria is in lockdown there are also arrangements for key workers to travel and there have remained daily flights from Sofia to Holland and the UK. We have quickly and successfully replaced our face to face interview process with technology and even colour blindness tests can now be done remotely.
"As long as flights remain between Bulgaria and the UK (and Holland), as they are now and look to remain, we will continue to recruit workers for our customers as originally planned.
"Clearly this is an enormously anxious time for the faming and fresh produce industry and for those involved in recruiting staff to get cops picked and packed."
Naerebout said that he was in fact more concerned for next year's season, with 2020 being the last year that EU nationals can enter and work in the UK freely. As of 2021, only EU nationals with settled status can work in the UK, without meeting the Home Office's new points-based immigraiton criteria, set out last year.
"Strangely, I am personally even more worried about next year compared to this year with potentially full restrictions to new EU workers entering the UK.
"Perhaps the current crisis is graphically demonstrating to policy makers how important it is for the farming and fresh produce industry to have access to seasonal agricultural workers.
"The expansion of the Seasonal Agricultural Workers Scheme to potentially 90,000 people (now called key workers) in 2021 is vital for the industry and food security. The current crisis will no doubt more than prove that."