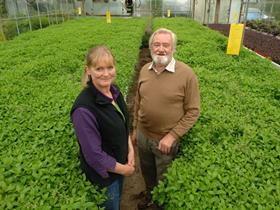 Sussex-based herb specialist Langmeads has agreed to buy Scotherbs for an undisclosed sum.
The deal will see Scotherbs – headed by current MD Ronnie Leggett – continue to act as a standalone business within the Langmead Group. Current shareholders Robert Wilson and Fiona Lamotte will remain as directors.
"The agreement will further build on Scotherbs' skills, Scottish growing and packing capabilities, distinctive provenance and reputation, but bring additional access to investment funds," said Langmeads CEO Ian Summerfield.
It will also help Scotherbs' plans to expand Scottish herb growing, he added. "Scotherbs will operate as a distinct business within Langmeads group, serving specific customers and markets, though with the benefit of increased group support resources."
Scotherbs chairman Robert Wilson said Langmeads is committed to supporting long-term plans for Scotherbs.
"There is very strong alignment in each business' approach and values, such as investment in people, building strong, long-term relationships with our customers, suppliers and communities and having a real passion for our industry as well as a commitment to expanding herb growing in Scotland," he said.
Scotherbs employs 105 people at its site in Longforgan, Perth & Kinross in Scotland, farming approximately 250 acres in the surrounding area.
West Sussex-based Langmeads, which has around 140 staff, has long-standing customer relationships with Tesco, Morrisons and Lidl. The company has around 5,000 acres in Sussex as well as some land and facilities in Spain.