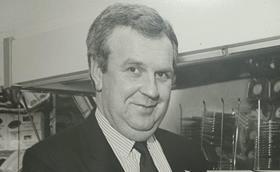 Committed and long-standing New Covent Garden trader Sham Grimshaw has died aged 75.
Sham, who worked at both the Old and the New Covent Garden Markets, was born in Westminster and raised in Pimlico, where from a young age he carried travellers' cases at Victoria Station before starting work on a fruit stand in Pimlico.
A dedicated trader, Sham was well known on the market during a career that stretched back many years. He started at Mack & Edwards, followed by Pankhurst's, before setting up his own business D.D.P. in the 1980s with son Kevin, who passed away in 2019.
As well as supplying The House of Lords for 20 years, Sham achieved two Royal Warrants while in charge at D.D.P. – for The Queen Mother and Her Majesty The Queen – the latter of which still remains today, unbroken after over 20 years of supplying The Royal Households.
Sham was reported to be immensely proud of this and knew the importance of having reliable staff and suppliers around him. This has not changed and even after retiring, he still spoke to suppliers and constantly reminded his other son, Paul, of the importance of working with good people.
Paul said:"I can't get anywhere near what he achieved over the years. Even though he retired from the business over two years ago, he still knew what was going on and we spoke virtually every day. I will miss his sense of humour every day and being a solid sounding board for business and life in general."
Sham was said to be 'a true market man' and loved the cut and thrust of the early morning trade and the obstacles it presented every day. According to his family, he worked very hard all of his life and was not one for lavish holidays, but enjoyed the peace and quiet of living in the country with wife, Carole.
Sham enjoyed talking to many traders on the NCGM buyers' walk, including Eddie Barrett (HG Walker), Ian Furness (French Garden), Bruce White (Bruce White), Nick and Terry (London Fresh), Bart (Supreme Salads), Robert Reid, Barry Damian (Gilgrove), Simon (Greenhill Mushrooms), Barry Grant, Roger Garber, and Gary Marshall (Bevington Salads).
Sham reportedly grew very fond of Gary and was keen to support him in his role as chairman of the Covent Garden Tenants' Association, not least with the proposedredevelopment of the market. The well-liked trader was a member of the CGTA Management Committee for over 10 years and was apparently strongly in support of all the 'Phase One' tenants sticking together during the redevelopment.
Gary said: "Sham was a great supporter of the market, especially of the CGTA, and of me as chairman. His unbiased advice, wisdom and staunch support was priceless. He was a man of his word and a gentleman. He will be sadly missed."
So that all his staff and many of the market community can attend, the funeral has been arranged for a Saturday (19March) at Chilterns Crematorium in Amersham at 11.30am. Sham's family said they would welcome anyone from the market to attend.