Lidl store and warehouse workers receive third pay rise in 12 months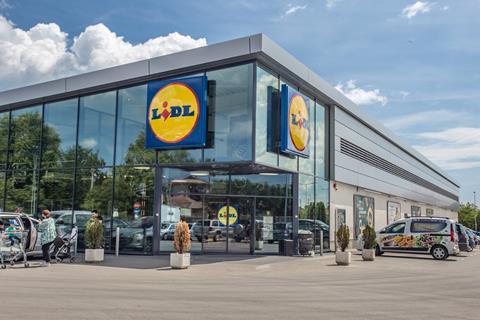 Discount supermarket Lidl GB has announced its third pay rate increase in 12 months which will impact all of its 24,500 hourly-paid colleagues.
The latest raise announced today (24 May) will see colleagues earn up to 16 per cent more than their counterparts at traditional and premium priced supermarkets, Lidl said.
Store and warehouse colleagues working outside the M25 will see hourly pay increase to £11.40 from £11, rising to £12.30 with length of service. Meanwhile, pay for those inside the M25 will increase to £12.85 from £11.95, rising to £13.15.
The move represents an overall investment of £8 million and equates to a combined investment of over £60 million into colleague pay in the past year alone.
Ryan McDonnell, CEO at Lidl GB, commented: "These new rates of pay will ensure that Lidl maintains its position as the UK's highest paying supermarket. Our people are at the core of everything we do, and this investment recognises the hard work and contribution they make in serving communities across the country every day."
Lidl GB recently announced it was looking to recruit over 1,500 warehouse colleagues across its Regional Distribution Centre (RDC) network as part of its focus to strengthen infrastructure. This year will see its biggest warehouse globally open in Luton, while plans for a new RDC in Leeds have also been submitted which would create around 400 additional jobs.
Stephanie Rogers, chief human resources officer at Lidl GB, added: "Back in 2015, Lidl GB became the first supermarket to pay the voluntary Living Wage. This marked a fundamental change within the industry and continues to set the bar for other supermarkets.
"Over the last seven years, we've continued to uphold our commitment to ensuring that those working at Lidl GB receive a pay rate that not only recognises their hard work, but also aligns with rising living costs. I'm incredibly proud to be part of an organisation that puts its people first."