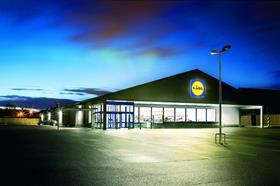 Lidl plans to accelerate its UK store openings and take its total to 1,000 by 2023,The Sunday Timeshas reported.
This is the latest bold plan from the retailer, which has been rapidly growing its store estate and distribution network in recent years in a bid to steal market share from the Big Four. It accelerates Lidl's previously stated plan to open 50-60 new stores a year.
The expansion would see Lidl open 230 stores in the next three years, while the chain's discount rival Aldi also plans to open about 50 new stores a year for the next two years.
Alongside Aldi, Lidl has seen its share of the UK grocery market grow rapidly in recent years, and between them the German discounters now account for 14 per cent of Britain's grocery retail trade, according to Kantar Wordpanel.
The Big Four have been trying to close the price gap to compete, but both Lidl and Aldi continue to expand across the UK.
Whereas Lidl initially focused store openings in areas with cheap land, now it is looking to increase its presence in London where rents are high. In June it announced a £500 million expansion plan to improve its existing portfolio of 88 stores within the M25 and add 40 others.
Lidl's sales increased by 8.8 per cent in the 12 weeks to 3 November, according to Kantar Worldpanel.