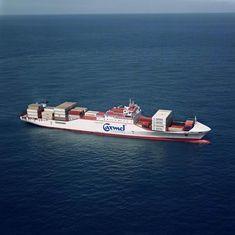 Almost a year has passed since Agrexco, the Israeli fresh produce giant whose plight was one of the major running stories of 2010-11, was finally sold as a going concern to Bickel Export Group and Orian SM Ltd, with a greatly slimmed-down version re-emerging within a couple of months under new management.
Much has been written about what went wrong at the company, but what of its staff, many of whom went on to other industry positions or even establish new firms of their own?
One such business was Pacific Produce, which was set up in January 2011 to offer an efficient route to market for growers, with a particular focus on citrus. The business includes four former Agrexco staff - product managers Rob Cullum and Chris Stewart, technical manager Craig Stewart and wholesale sales manager Chris Bavin.
Cullum, who is now director at Pacific Produce, explains: "All of us spent more than 10 years each at Agrexco and we are all 36 and younger, so it was a huge part of our working lives.
"Agrexco was like a family," he recalls. "It was a great place to work and the experience that we all gained was enormous due to the support of experienced and knowledgeable colleagues, and of course the immense product range that I do not believe any other company comes close to."
Cullum believes that many products popular now would not have gone mainstream without the support of Agrexco. "The loss of Agrexco was a loss for everyone in the business and consumers who will not get the chance to try so many new and exciting products. And the biggest loss will be to those smaller niche growers that will find it difficult to reach markets. I have heard the saying 'Agrexco University' many times and I think it is a good description. Israel punches above its weight in agricultural products and all the remaining and new companies almost certainly have a former Agrexco employee or two."
Another well-known face in the UK trade is Mike Caddy, the ex-Agrexco product manager who is now working as business development manager at forward-thinking wholesale and foodservice specialist Premier Fruits. Caddy spent 15 years at Agrexco, mainly in charge of herbs but also covering organic produce while there were still specialist packers, pot plant sellers and cut flowers.
Of his new position, Caddy says: "My new role is in an embryonic stage, but we are trying to get closer to our suppliers and work with them to improve their understanding of the foodservice sector that we focus on. It is a steep learning curve and we are now working with UK and overseas suppliers - it is nice to be with a company that is forward thinking and prepared to step out of its comfort zone to explore new areas."
Caddy says he met some "fantastic people" during his time at Agrexco. "And despite what some people might think it was a very tight ship in the end," he recalls. "In fact there were too many people checking on what you did and the costs. Perhaps that was a reflection of the global meltdown. Agrexco was formed to develop sales for Israel and encourage growers. It did a good job, but in the end the political climate changed, competition was encouraged and the catalyst role no longer needed.
"The practices and technology that were adapted were leading edge and followed by others, and still are. Sadly many of the memories are slightly tarnished by the treatment of the employees here in the UK - it took a long time for everyone to find employment."
When it comes to passion for the fresh produce industry, few can match Oded Jacobson, who worked for 14 years at Agrexco - latterly as UK general manager. He too is now in a new business, Galilee Export, where he is also general manager. The company focuses on fruits - mainly avocado, citrus and exotics - as well as peppers, carrots, sweet potatoes, dates and more.
Jacobson says he learned all he knows at Agrexco. "I learned things to do and things not to do. It was like my second home andI was surprised it came to such a point. Today, most of the 'Agrexco University' employees are spread around different companies in Israel, and most of the growers left Agrexco and found good outlets for their products.
"Galilee Export was established by growers fed up with the fact others were making money except from the growers. All the competition in the trade is on the back of the growers, and we shouldn't forget they are the oxygen for the industry."
Other former Agrexco employees moved on to a wide spread of companies in the trade, including Agroya, The Greenery, Kedem and Vidafresh - but the one thing that many of them will cite when asked to recall their time at the Israeli giant was the family atmosphere and wide-ranging remit of the job.
Anne-Do Bauchot was a technologist at Agrexco for eight years, but now works as a technical assistant for the DPS Group, a fruit importer which focuses on stonefruit. Her outstanding memory is the "incredible number of customers I would talk to in the same day." "At any given time of the year, I could always spot produce from Agrexco in a UK supermarket or in the market, and that was the same when visiting my family in France. And best of all, I had great colleagues," she tells FPJ.
Monica Florez worked for a year as a sales manager in the flowers department at Agrexco before moving on to become supply chain manager at Dole Fresh UK. She explains: "Imostly have good memories about Agrexco. I loved working with the moshavsand product managersout ofIsrael. BeingLatin American, I canrelate a lot to their culture and way of being. Imade great friends there who I am still in contact with."
So what of the current incarnation of the company? The UK business is now run by Dudi Vaknine in an office of four staff who all moved from the original business. Only up and running since late last year, Vaknine says it has been a good first 12 months for the business, which is now preparing for the new season in salads, herbs, citrus and strawberries.
The company is currently on the lookout for a new salesperson as it aims to build up custom, and Vaknine is realistic about what he has brought with him in terms of learnings and experience. "The one thing I learned is that if something looks stable you must still be aware and make the changes needed to the business." -