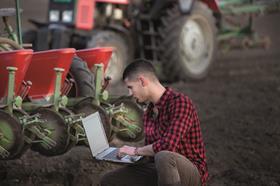 The Greater Lincolnshire Local Enterprise Partnership has put out a call for the unemployed, redundant, students and others looking for work to help feed the nation.
The Greater Lincolnshire LEP is signposting people to the various schemes that have been put in place to boost the area's food and farming workforce. Lincolnshire is a heartland of national vegetable production and is in urgent need of workers to fill the void of foreign labour unable to come to the UK due to the coronavirus crisis.
"Greater Lincolnshire is the food capital of the UK, producing one-eighth of all England's food," said Sarah Louise Fairburn, chair of the Greater Lincolnshire Food Board and a director of the Greater Lincolnshire LEP. "During the pandemic our area has a key role to play in helping to keep food in our shops.
"In Lincolnshire we are the centre of the UK fresh produce sector, and as the peak harvest period for salads and vegetables approaches we will need even more staff from the end of April.
"Whether you are unemployed, someone who has recently been made redundant or a student, our food chain would welcome your help as we work to keep the nation fed through this difficult time."
A number of schemes have been set up to help get more staff into the food chain, with rapid application processes, usually with an online interview and then quick placement in a job.
The schemes include Feed the Nation, which has direct links to Morrisons, Tesco, Sainsbury's, Ocado and Staffline, and theSpare Workers Availability Portal (SWAP),which connects employers with excess staff to those with shortages.
Soon-to-be-launched initiatives include the NFU'sPick for Britain programme, which will seek to recruit the workforce needed to bring in the harvest, and theEssential Workers Neededprogramme, which will allow food sector employers who need extra staff to make this known to the team running the SWAP programme, so that supply and demand can be matched.